Ana of California
Author: Andi Teran
Publisher: Penguin Books
Release Date: June 30, 2015
Genre: Adult, Young adult crossover, Fiction, Retellings, Coming of Age, Contemporary
Get it Here: Amazon | Barnes & Noble | Book Depository | Kobo
Synopsis:
Appropriate for YA audiences.
A modern take on the classic coming-of-age novel, inspired by Anne of Green Gables
In the grand tradition of Anne of Green Gables, Bridget Jones's Diary, and The Three Weissmanns of Westport, Andi Teran's captivating debut novel offers a contemporary twist on a beloved classic.
Fifteen-year-old orphan Ana Cortez has just blown her last chance with a foster family. It's a group home next—unless she agrees to leave East Los Angeles for a farm trainee program in Northern California.When she first arrives, Ana can't tell a tomato plant from a blackberry bush, and Emmett Garber is skeptical that this slight city girl can be any help on his farm. His sister Abbie, however, thinks Ana might be just what they need. Ana comes to love Garber Farm, and even Emmett has to admit that her hard work is an asset. But when she inadvertently stirs up trouble in town, Ana is afraid she might have ruined her last chance at finding a place to belong.
Confession: I've never read Anne of Green Gables before; if I did, wayyyyy long ago, then I have no recollection. Thus, I couldn't really draw parallels from this book to the original. However, it's safe to say that Ana of California does manage to stand on its own.
I really enjoyed reading about Ana's character. (And no, that's not only because I have a friend whose name is Ana Lopez – three letters away from Ana Cortez's name in the book.) She's afraid of messing things up, just like what happened to her in the past. Ana is also very hardworking and quite selfless. Although I felt like her dialogue was a bit mature for a 15/16 year old, I still enjoyed it nonetheless.
When Ana is foisted away from her fifth foster home, she gets sent to a farm in California, owned by the siblings Abbie and Emmett Garber, as an intern to work there. She doesn't know the first thing about kale or weeding, but she sets her mind up to learn. Ana's character is really dedicated and strong despite her past, and I wish that her determination extended to her love life too.
The beginning of Ana's relationship with the bad boy Cole was quite witty and hesitant, but from nowhere came a blossoming romance. And although I do enjoy cute scenes, it felt a little hollow considering the trouble it got them into.
However, I did enjoy reading about the small situations having to do with Ana's guardians, the Garber siblings, and her developing friendship with a girl named Rye Moon. Each character has their own quirky personality that set them apart and gave them life. 
The ending is quite refreshing as not only Ana but other characters learn life lessons from their actions in the climax. It leaves an open and inviting ending that will leave readers content. The book was super speedy to read because it was so enjoyable, and I'd definitely recommend it for readers looking for a story with a small town girl.
Dream Cast: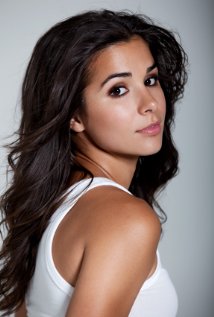 Josie Loren as Ana Cortez
Amy Poehler as Abbie Garber
Tom Hardy as Emmett Garber
Janel Parrish as Rye Moon
(Just add blue bangs!)
Logan Lerman as Cole Brannan
Andi Teran is a writer and performer originally from the deserts of West Texas. She has written about fashion, film, and culture for Vanity Fair, MTV, New York, and Monocle, as well as written and performed for various New York stages. She lives in Los Angeles. Ana of California is her first novel.
Details:
Win (1) of (5) finished copies of ANA OF CALIFORNIA by Andi Teran (US Only)