Scarlet Trilogy
Author: AC Gaughen
Publisher: Bloomsbury
Whoa, a whole series review? Yes ladies and gentlemen, this post will consist of three mini-reviews of the trilogy by AC Gaughen that follows the story of Scarlet – or in the legend of Robin Hood we know, Maid Marian. It's a retelling that follows history quite well and provides great entertainment, especially if you're on a 13 hour flight from Chicago to China. (Also, the covers are beautiful! I love how they're consistent and have the same style.)
Scarlet
Release Date: February 14, 2012
Get it here: Amazon
Synopsis:
Will Scarlet is good at two things: stealing from the rich and keeping secrets – skills that are in high demand in Robin Hood's band of thieves, who protect the people of Nottingham from the evil sheriff. Scarlet's biggest secret of all is one only Robin and his men know…that she is posing as a thief; that the slip of a boy who is fast with sharp knives is really a girl.
The terrible events in her past that led Scarlet to hide her real identity are in danger of being exposed when the thief taker Lord Gisbourne arrives in town to rid Nottingham of the Hood and his men once and for all. As Gisbourne closes in a put innocent lives at risk, Scarlet must decide how much the people of Nottingham mean to her, especially John Little, a flirtatious fellow outlaw, and Robin, whose quick smiles have the rare power to unsettle her. There is real honor among these thieves and so much more – making this a fight worth dying for.
What I Liked: 
– Scarlet is a very badass heroine. She's a thief, yes, and she has the skills to prove it. I like her character introspection and how she gets angry at the other guys for thinking she's weak – and setting out to prove them wrong.
– The way Gaughen retells Robin Hood is compelling. The historical elements also make the setting more alive, with mentions of the current reigning monarch during the time as well as their situation. It gives breathe to the story.
– Although at first I didn't like it, Scarlet's dialogue makes her character even more realistic. She speaks like how (I would guess) peasants spoke during the time, although the number of times I replaced "were" in my head with the correct "was" was quite exasperating.
– The plot was interesting and exciting. Scarlet's past catches up to her in this book, and the merry men have to figure out how to get past it while protecting each other. Nice details of friendship and love between the group.
What I Didn't Like:
– The romance was melodramatic and tiring to read about. There is a love triangle. there are dense characters on both sides, and there is miscommunication and misunderstandings galore. It made me annoyed and I find that it took away from the story.
– Although Rob (Robin Hood) in the story is nice to read about, I didn't fall in love with his character. I get that the main character is Scarlet, but I didn't care on way or the other about Rob, even though he's one of the love interests. It's kind of sad, considering the retelling this book is based on is named after him.
I came for the fact that the last book recently came out, I stayed for the awesome heroine, cool historical setting, and exciting plot.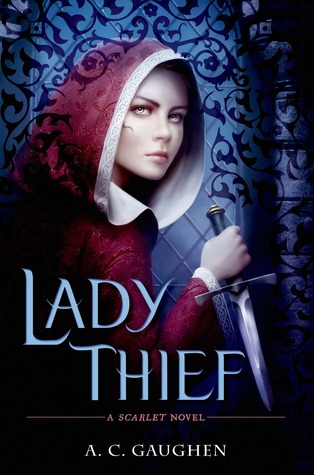 Lady Thief
Release Date: February 11, 2014
Get it here: Amazon
Synopsis: Scarlet's true identity has been revealed, but her future is uncertain. Her forced marriage to Lord Gisbourne threatens Robin and Scarlet's love, and as the royal court descends upon Nottingham for the appointment of a new Sheriff, the people of Nottingham hope that Prince John will appoint their beloved Robin Hood. But Prince John has different plans for Nottingham that revolve around a fateful secret from Scarlet's past even she isn't yet aware of.
Forced to participate at court alongside her ruthless husband, Scarlet must bide her time and act the part of a noblewoman—a worthy sacrifice if it means helping Robin's cause and a chance at a future with the man she loves. With a fresh line of intrigue and as much passion as ever, the next chapter in Scarlet's tale will have readers talking once again.
What I Liked:
– The stakes are higher in this book where more characters get involved. In Lady Thief, we're introduced to more characters as Scarlet and her band of boys men navigate their way through court intrigue. Most of those characters are from history and the ones that play a big role in the story can definitely be found in history books.
– Believe it or not, the antagonist, Lord Gisbourne, is very interesting to read about. In the first book, he is placed as the worst kind of cruel villain. In this book, we are given hints that his character is something more. It made me eager to read about him and hate him at the same time.
– The story certainly took an interesting turn, as Scarlet discovers the truth about her past. In the first book she thinks she knows her secrets, but in this one it turns out that there is more going on in her life than she has ever expected. It's interesting, it's secretive, and it's highly enjoyable to read about.
What I Didn't Like:
– Again, the romance wasn't exactly swoon-worthy. Especially with the fact that in this book, Scarlet is married to Lord Gisbourne. Yes, this is a situation where I would condone cheating (typically I abhor cheating – knowingly or otherwise. That crap ain't cool, man), however, in this book it just made me uncomfortable. It certainly didn't help the romance develop.
I came to follow up on the series, I stayed for the ongoing complex plot and intense characters.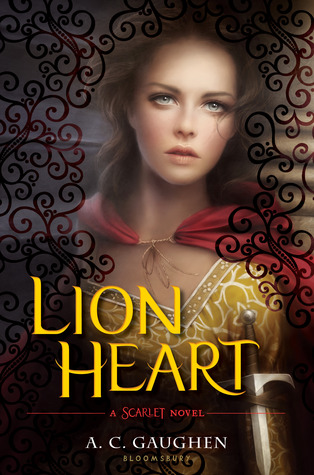 Lion Heart
Release Date: May 19, 2015
Get it here: Amazon
Synopsis: The eagerly-awaited conclusion to the Scarlet trilogy delivers another action-packed and romance-filled adventure.
Scarlet has captured the hearts of readers as well as the heart of Robin Hood, and after ceaseless obstacles and countless threats, readers will finally find out the fate of the Lady Thief.
Imprisoned by Prince John for months, Scarlet finds herself a long way from Nottinghamshire. After a daring escape from the Prince's clutches, she learns that King Richard's life is in jeopardy, and Eleanor of Aquitaine demands a service Scarlet can't refuse: spy for her and help bring Richard home safe. But fate—and her heart—won't allow her to stay away from Nottinghamshire for long, and together, Scarlet and Rob must stop Prince John from going through with his dark plans for England. They can not rest until he's stopped, but will their love be enough to save them once and for all?

What I Liked:
– The storyline was pretty awesome, until the end. See more about the end later in the review. Other than that, it was as compelling as the other two books. We have murder, romance, running from people, and minstrel stories all over the place.
– Characters showed a good amount of development throughout the book. In the beginning, Scarlet makes some pretty dumbass decisions that made me pretty angry. However, she learns from those mistakes and fixed them. It was dynamic and realistic to read about.
What I Didn't Like:
– The ending was abrupt and inconclusive. I expected this book to have a grandiose ending, especially with the whole "lion heart" thing going on with Scarlet. However, I did not expect the last paragraph I read to be the end. I honestly went back and forth between the pages, just to check that it was the last page of story. Yeah, it was. And yeah, the plot had a resolution, but the OVERALL story – spanning from the first book to this – did not have a conclusive ending.
– One of the character's death was obviously a plot device and one not well-done. (If you want to know who it was, I mentioned him in this post.) I can see why Gaughen decided on  his death to continue the plot, but I think she could have done it better. He had so much character potential wasted because of the way she killed him. It made the development in the second book all useless.
– This is a continuing trend in these reviews, but again, I didn't necessarily dislike the romance, but I didn't exactly feel anything in regards to it. Considering the fact that Scarlet's decisions were largely led by her love for Rob, I didn't really get into it. I came to finish the series, I stayed, well, to finish the series; in between character development and an unsatisfying ending.
So overall, I'd give this series a 3.5. It was quite enjoyable while reading; however, although I can see myself rereading it sometime later in the future (when I forget about it), it isn't something I particularly loved and will worship. Entertaining at the time, but not memorable.
Recommended for:
Readers who like Robin Hood or retellings with a little twist. If you enjoy historical settings with pretty good accuracy, then  you'll also enjoy this trilogy too. Add up some romance lovers who also like court intrigue with their couple, then this should be your next read.