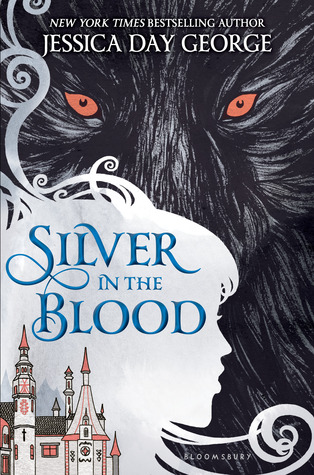 Silver in the Blood
Author: Jessica Day George
Series: Silver in the Blood
Release Date: July 7, 2015
Get it here: Amazon | Barnes & Noble | Book Depository
Synopsis:
A New York Times bestselling author brings dark secrets to life in a lush new YA perfect for fans of Libba Bray or Cassandra Clare.
Society girls from New York City circa 1890, Dacia and Lou never desired to know more about their lineage, instead preferring to gossip about the mysterious Romanian family that they barely knew. But upon turning seventeen, the girls must return to their homeland to meet their relatives, find proper husbands, and—most terrifyingly—learn the deep family secrets of The Claw, The Wing, and The Smoke. The Florescus, after all, are shape-shifters, and it is time for Dacia and Lou to fulfill the prophecy that demands their acceptance of this fate . . . or fight against this cruel inheritance with all their might.
With a gorgeous Romanian setting, stunning Parisian gowns, and dark brooding young men, readers will be swept up by this epic adventure of two girls in a battle for their lives.
I received a copy of this book in exchange for an honest review. Thanks Netgalley and Bloomsbury!
So, growing up changes you. Obviously you're not the same person you are five years ago, especially from childhood to adulthood. Sometimes they are these books that you grow up with, and you love from the start to end, no matter how tiring or cliche it gets. Then there are the books that you grow out of, where it's great when you're reading them, but five years later it just gets tiring and you can't give it the unconditional love you give to the former types of books I mentioned.
Jessica Day George writes lovely books that I think I've simply grown out of.
In middle school, I would not hesitate to grab any of her new books. It was the same for this one, but I guess old habits die hard.
There's an amazing plot with the background of a complex Romanian culture. You can always count of George to bring out pretty ball gowns and handsome princes. And of course, the sweet and not overbearing romance that is omnipresent in her books. The writing style was clear and both narrators had such fun and diverse personalities. Of course, these are all traits of a book I would love.
However, these elements just didn't affect me the way it would have affected my 12 year old self. Looking back, I can see why in my preteens I would absolutely love this book, but now that I've grown (a little), my tastes just don't mesh anymore.
I read the majority of George's books in middle school, and this one would do best with younger readers that age. The plot was really slow in the beginning. Like, so slow I kept on checking the progress of how I was doing. When I have to do that, you know the book isn't going anywhere.
Two cousins, Lou and Dacia, are traveling to their hometown Romania to discover secrets about their family. And oh man, those secrets? Took almost half the book to find out. And by that time, the readers will know what's up. It was predictable, to say the least. However, during that time we're given glimpses of Romanian culture, which I really enjoyed. George does her magic and describes the castles, traditional dresses, and scenery in such detail that I can imagine them perfectly in my head.
But as thrilling as they are, it still bothered me how slow the plot was moving, and how the foreshadowing made me annoyed and irritable instead of excited and eager to read more.
Dacia and Lou are both endearing characters with their own personalities. Dacia's confidence and bold behaviors are a sharp foil to Lou's shyness. That doesn't mean they don't change throughout the story, though. Oh, and each gets their own cute love interest. George's romances are always like the icing on the cake. It's not central to the story, but definitely a sweet addition to it.
But, like I said in the beginning of the review, George's books no longer affect me the way they did to my self a couple years ago. Maybe it's the lack of action until the end, or the slow plot in the beginning, or the one dimensional villain(s), but something in it just made me disappointed, no matter how much I enjoyed reading the plot, romance, characters, and setting.
Just because something was missing for me doesn't mean something will be missing when you read it. If you've always been a George fan, like to see different cultural backdrops, or like some paranormal elements in your historical fiction, then definitely pick this one up!