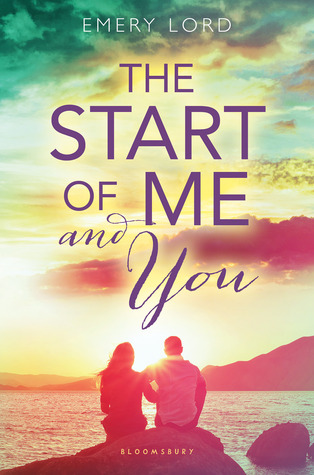 The Start of Me and You
Author: Emery Lord
Publisher: Bloomsbury
Release Date: March 31, 2015
Get it here: Amazon | Barnes & Noble | Book Depository
Synopsis:
Following her pitch-perfect debut Open Road Summer, Emery Lord pens another gorgeous story of best friends, new love, & second chances.
Brimming with heartfelt relationships and authentic high-school dynamicsThe Start of Me and You proves that it's never too late for second chances.
It's been a year since it happened—when Paige Hancock's first boyfriend died in an accident. After shutting out the world for two years, Paige is finally ready for a second chance at high school . . . and she has a plan. First: Get her old crush, Ryan Chase, to date her—the perfect way to convince everyone she's back to normal. Next: Join a club—simple, it's high school after all. But when Ryan's sweet, nerdy cousin, Max, moves to town and recruits Paige for the Quiz Bowl team (of all things!) her perfect plan is thrown for a serious loop. Will Paige be able to face her fears and finally open herself up to the life she was meant to live?
You want to know why I don't like contemporary Young Adult books?
Because of books like this.
(I don't mean that in a negative connotation, it was just an opening statement that I thought would get attention – which I have, if you're still reading – HA.)
See, I like fantasy and science fiction because we're traversing through places unknown to my otherwise mundane and normal life. When I read contemporary, I try to pick one that I think would have a lesson to be learned or something that would make me jealous of someone else's NOT mundane life. Do I get that in The Start of Me and You?
And I honestly thought we had something going, too, considering the premise was pretty interesting. This girl Paige has to go past the death of her boyfriend to live out her life. But in the end of the book, you know what thoughts I had? None.
Total apathy.
And I'm 104% that's just me. I mean, lots of people fell in love with these characters but I just can't.
I'll admit, the way Lord dealt with the situation is very realistic. Despite dating for only 2 months, Paige gets the pity look from everyone because of her dead boyfriend and that starts building a wall from a lot of people. I enjoyed the way Paige goes through the aftermath of his death and exploring her feelings.
"I mourned for his life, but I also mourned, selfishly, for myself. The first boy to really notice me drowned in a freak accident, and I would never know the whole of him. The idea of us still hung in the air, but we'd never be more than a few golden memories and a bundle of what-ifs. How do you find closure in that – especially when strangers treat you like a widow to a devoted husband?
Moving on to Paige's friends, which consist of a group of girls that expands to the guys that hold Paige's interest. Who were the group of girls? Tessa, the popular friend MC's all have, and two other girls that kind of disappeared in the end. I think one's name was Kayleigh and the other… ?????
Anyway, those additional cardboard cutouts are replaced by the hot Ryan Chase and dorky Max Watson. Who is Ryan? Another piece of recyclable material that is supposedly some popular guy who I did not know or care about.
Max, on the other hand, is explored way more and I really like this boy. He's a total dork (HE LIKES FIREFLY) and really helps Paige come out of her shell. I like their interactions the best.
"But Max? Max I could tell anything to. It made a difference, telling my secrets to someone who remembered ever word."
So you know how above, it seems like more than half of the characters are background pixels? Well, it made the touching moments less touching. I like these kind of scenes,
"The four of us didn't necessarily have a lot in common, but they made me feel like one of them… When I joined QuizBowl, I hadn't expected to like it so much."
but as heartwarming as they are, it feels so much less because I know like two things about these people. There it is, that apathy that's radiating out of me.
Maybe this would have helped if I liked the main character better. Paige was okay, a typical teenager aka exasperating and dynamic, but just plain boring to me. (Not to mention it took her more than half the book to realize who she really liked, but shhh young adult probs.) When there's another character death in the book, I didn't care. I didn't connect to anything she did.
See, contemporary doesn't work for me when I don't feel that connection. If there's no chemistry between the characters (and ME!), then it's a no-go for me. In fantasy books I can make do with the world or magic shenola or politics going on, but now I'm just reading about some girl suffering some second-hand PTSD (is that a thing?) because of a dead boyfriend and tryna chase the wrong guy, which is essentially a waste of time.
Don't get me wrong though, it wasn't a waste of time because it was still enjoyable while reading (kind of) and taught some lessons that won't stick with me. But dang, was that a boring book.