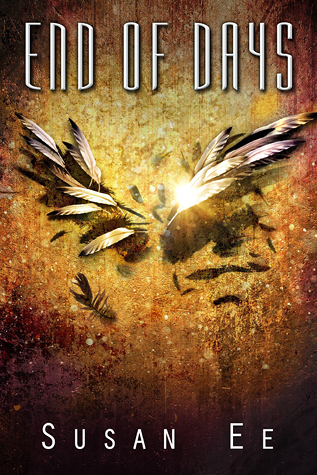 End of Days
Author: Susan Ee
Series: Penryn & the End of Days
Publisher: Skyscape
Release Date: May 12, 2015
Get it here: Amazon | Barnes & Noble | Book Depository
Synopsis:
End of Days
is the explosive conclusion to Susan Ee's bestselling
Penryn & the End of Days
trilogy.
After a daring escape from the angels, Penryn and Raffe are on the run. They're both desperate to find a doctor who can reverse the twisted changes inflicted by the angels on Raffe and Penryn's sister. As they set off in search of answers, a startling revelation about Raffe's past unleashes dark forces that threaten them all.
When the angels release an apocalyptic nightmare onto humans, both sides are set on a path toward war. As unlikely alliances form and strategies shift, who will emerge victorious? Forced to pick sides in the fight for control of the earthly realm, Raffe and Penryn must choose: Their own kind, or each other?
A very satisfying conclusion to an awesome trilogy! Although I could have seen a little more in the epilogue, I am very content to end the series as it is. Susan Ee does it again, and I can't wait to see news of more books from her!
What I Liked:
– Like the other books, Ee does not hesitate to paint a gruesome image of the world.
The angels are scary as heck. The scorpion creatures are scary as heck. Humans are scary as heck.
– The events that unfold are spectacular.
Ee certainly doesn't write things in small measures! Whether it's an angel attack or going back in time to do, ah, certain spoilery things, every part of the plot kept me riveted. My eyes were glued to the page!
"In the distance, the Watchers weave a beautiful dance in the dawn sky beneath Beliel's shower of fire."
– I absolutely adore the characters, from the cranky Beliel to Penryn's psychopathic mother. 
Each and every one of them are dear to my heart. They are realistic (to a point; if the events in the book can be claled "real") and are so humane. Even the angels can garner such empathy from me. Humans, demons, angels; each have their good and bad points – Ee writes it to show that they can be so different but also so similar.
"Okay, maybe we're not the most civilized beings in the universe. but then, who is?"
– Romance fans will be satisfied with the ship.
Come on, if you're reading this review, you KNOW what ship I'm talking about. (*cough* Rafe x Penryn *cough*) Yes, they are one of my ultimate book OTPs at this point. 😀
What I Didn't Like:
– Looking back, nothing. 
Although I would have liked to have seen a bit more going on in the epilogue, the resolution will satisfy Penryn fans across the globe.
Recommended for:
People who have read the first two books, duh. If you're a dystopian fan, then definitely pick this one up! I'm not sure why you haven't, because this is the dystopian to read.