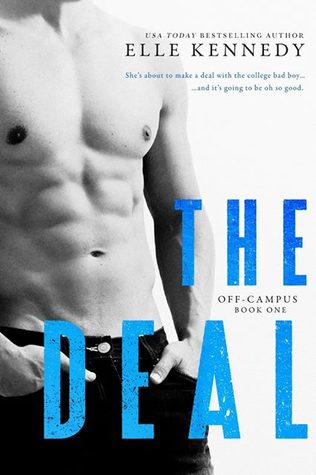 The Deal
Author: Elle Kennedy
Series: Off-Campus
Release Date: February 24, 2015
Get it here: Amazon | Barnes & Noble | Book Depository
Synopsis:
She's about to make a deal with the college bad boy…
Hannah Wells has finally found someone who turns her on. But while she might be confident in every other area of her life, she's carting around a full set of baggage when it comes to sex and seduction. If she wants to get her crush's attention, she'll have to step out of her comfort zone and make him take notice… even if it means tutoring the annoying, childish, cocky captain of the hockey team in exchange for a pretend date.
…and it's going to be oh so good.
All Garrett Graham has ever wanted is to play professional hockey after graduation, but his plummeting GPA is threatening everything he's worked so hard for. If helping a sarcastic brunette make another guy jealous will help him secure his position on the team, he's all for it. But when one unexpected kiss leads to the wildest sex of both their lives, it doesn't take long for Garrett to realize that pretend isn't going to cut it. Now he just has to convince Hannah that the man she wants looks a lot like him.

*Ahem* So usually you don't really see me reading books with, ah, ripped chests on the cover. But hey, I've been getting curious about the New Adult genre, so I thought I'd check some out and see what the fuss is about. (Shout out to Melissa for the awesome recommendations!)
When I finished this book, all I could think of was the amount of
in it. Like, that's literally all it is. A feel-good type of read that makes people think that college is the bomb and everyone gets hooked up with everyone hot in the end.
Our main character, Hannah, is the stereotypical unique girl (damn, that oxymoron) that isn't like anyone else.
I've noticed she doesn't wear designer clothing or preppy getups like most of the females at this school, or the trashy party clothes you see on Greek Row and at the campus bars on weekends.
She's a music major and is invisible until the day Garret Graham pays attention to her. Garret is the captain of the infallible hockey team on campus and your stereotypical playboy. They go through the stereotypical relationship of tutor/friends to lovers to something more. Despite its predictableness, I enjoyed the transition. Garret certainly had lusty thoughts when first noticing Hannah but they were pretty good friends before becoming lovers. (When your NA romance development is done better than YA, for shame.) No insta-love in this house, and I'm actually a little surprised, because, YA KNOW, the cover is literally a guy's chest. Not even face! Just his chest. For all we know, all the books in the series could be the same chest!
Although it was enjoyable to read (as much as I dislike character tropes, HEAs always get to me), points are knocked for particular cliches. Ah – large phalluses being one. Bigger doesn't mean better, guys. It's like communism: while it sounds good on paper, it certainly isn't as good in reality. Dumb misunderstanding at the end. (Which I saw like miles away.) And all the attractive people in the book! Like, not everyone in sports teams are hot, guys.
I feel like these kind of books make college seem way better than it actually is. Over-glorification of what happens in college. But hey, what do I know? I mean, maybe the chances of getting a hot, nice, sweet, thoughtful but dick-headed sports player who's great at sex is easier than one might expect.
While I don't have plans on rereading this anytime soon, it was certainly enjoyable while reading.
Sometimes people sneak up on you and suddenly you don't know how you ever lived without them. How you went about your day and hung out with your friends and fucked other people without having this one important person in your life.