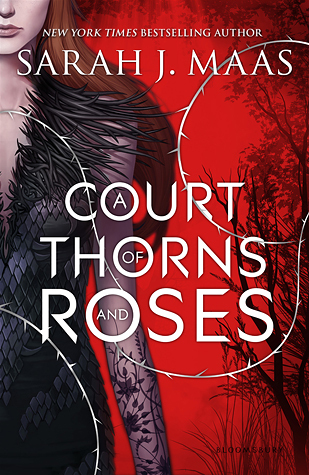 A Court of Thorns and Roses
Author: Sarah J Maas
Series: A Court of Thorns and Roses
Publisher: Bloomsbury
Release Date: May 5, 2015
Get it here: Amazon | Barnes & Noble | Book Depository
Synopsis:
A thrilling, seductive new series from New York Timesbestselling author Sarah J. Maas, blending Beauty and the Beast with faerie lore. 
When nineteen-year-old huntress Feyre kills a wolf in the woods, a beast-like creature arrives to demand retribution for it. Dragged to a treacherous magical land she only knows about from legends, Feyre discovers that her captor is not an animal, but Tamlin—one of the lethal, immortal faeries who once ruled their world.As she dwells on his estate, her feelings for Tamlin transform from icy hostility into a fiery passion that burns through every lie and warning she's been told about the beautiful, dangerous world of the Fae. But an ancient, wicked shadow grows over the faerie lands, and Feyre must find a way to stop it . . . or doom Tamlin—and his world—forever.Perfect for fans of Kristin Cashore and George R. R. Martin, this first book in a sexy and action-packed new series is impossible to put down!
I'm sure at this point many people have either read this book or read reviews for it. I'm also going to add a little bit of what I thought and hint: it's a pretty popular opinion.
This was my first Sarah J Maas book, and I enjoyed it immensely!
What I Liked:
– The writing is descriptive and flows nicely.
I can see the beautiful setting in my hand, from the woods near Feyre's house to the Fae realm. Additionally, all the characters stand out because they're so two-dimensional. I love pretty much each and every one of them.
– The romance is certainly swoon-worthy.
I would be lying if I said I didn't ship Feyre and Tamlin. With the way Maas set them up, they're a definite OTP!
– The rest of the cast is lovely.
I may not like some of the characters, but I enjoy disliking them. For the most part, everyone was quirky and very enjoyable to read about. The villain could have been explored more, but overall Maas creates the best, fleshed-out characters.
What I Didn't Like:
– There could have been more Beauty and the Beast
Tamlin was not that Beast-like. He had certain components of the fairy-tale, such as keeping Feyre away from her family, but he treated her REALLY well since the beginning. I never feared for Feyre once; he didn't even look like a beast! Putting on a mask ≠ Beastly.
– The future love triangle.
I'm 103% sure there's going to be one. And that's not cool at all! Why does a kickass heroine also need a male harem? No to the no thank you. I thought Feyre was perfectly fine with Tamlin, and although I like the other character that will most likely be the next vertex in the triangle, I don't think he could compare to my ship.
– Sometimes Feyre was dumb.
Of course, I enjoyed all the action her character was immersed in and how she jumped into things, but some decision were not really the greatest. A lot of the book was:
Everyone: "Feyre don't do the thing!"
Feyre: *does the thing*
It got a little annoying throughout the book.
Recommended for:
Fantasy readers of all kinds! Sarah J Maas fans will definitely enjoy this one too. If you're looking for a new retelling with two-dimensional characters and a gorgeous setting, check this one out!