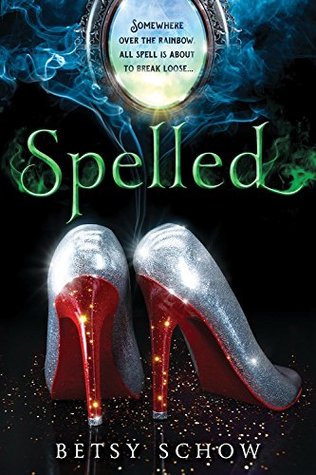 Spelled
Author:
Betsy Schow
Publisher:
Sourcebooks Fire
Release Date:
June 2nd 2015
Synopsis:
Fairy Tale Survival Rule #32: If you find yourself at the mercy of a wicked witch, sing a romantic ballad and wait for your Prince Charming to save the day.
Yeah, no thanks. Dorthea is completely princed out. Sure being the crown princess of Emerald has its perks—like Glenda Original ball gowns and Hans Christian Louboutin heels. But a forced marriage to the brooding prince Kato is so not what Dorthea had in mind for her enchanted future.Talk about unhappily ever after.Trying to fix her prince problem by wishing on a (cursed) star royally backfires, leaving the kingdom in chaos and her parents stuck in some place called "Kansas." Now it's up to Dorthea and her pixed off prince to find the mysterious Wizard of Oz and undo the curse…before it releases the wickedest witch of all and spells The End for the world of Story.
This book was so fun and had me smiling throughout the whole thing! Fairy tales are my biggest weakness, and I can't resist the chance to read one, or a retelling. There's something about them that makes them irresistable. Spelled was no exception, what with references to our classical princesses and tropes all within the story of Dorthea, crown princess of the Emerald Palace.
Some elements of The Wizard of Oz are present in the story, but it's not like it centers around it. We have cameos from Cinderella, Beauty, Snow White, and even Midas is mentioned in this fairy tale world. When I say this book is fun, I mean laugh out loud funny. Seriously, Dorthea talks of "knights in overpriced armor" and UPS, which is the United Pegasus Service. They had me giggling throughout the book! When you mix in some pop references like princes doing duck lips, you know it's a keeper.
In the story, Dorthea is as a spoiled princess who has to have the best. The best ball gowns, the best shoes, the best available prince. Why shouldn't she, anyway? I mean, she's crown princess. The Storymakers have obviously written a happily-ever-after for her, and all she needs to do it actually get to it. The Definitive Fairytale Survival Guide should have everything she needs to get through her fairy tale, after all, right?
Wrong.
That is, when Dorthea realizes her parents mean to marry her off to some rude prince, Kato, that she recently met. With a careless wish, she manages to ruin the whole kingdom and beyond. The rules are broken and magic is a mess. See, it wasn't just the arranged marriage that tipped it off though. When you're entrapped in your own palace because of some curse from generations ago, things don't really fall into your favor.
Basically it comes down to this: one of the female descendants in Dorthea's family will turn evil and torch the world. But we don't know who, so all of them are contained in the palace for their own safety. That is, until Dorthea makes her wish.
The Gray Witch, Griz, appears in the aftermath of chaos to kill Dorthea for some unknown reason, and not even the tips in Definitive Fairytale Survival Guide Volume 2: Villains can help solve their problems.
"'Rule #23: If you keep a storybook villain talking long enough, they will never fail to spill all the details of their evil plan. Some might even draw you a diagram.'"
After Dorthea's wish though, these rules are unfortunately broken. So we don't know what's up with this witch, but we know's she's an obvious villain.Dorthea manages to escape, but the Gray Witch gets the last word…
Off to an adventure Dorthea goes, with unlikely companions: a servant girl with kleptomania named Rexi, and Prince Kato, who is now in the form of a fuzzy animal called a chimera. Along the way, she meets a cast of characters while the Gray Witch searches for her. And yes – she's going somewhere over the rainbow.
Can I just reiterate how much fun this book was (for the fifteenth time)? Maybe it's geared towards a more younger YA audience, but I enjoyed it just as much. Plus, Dorthea's character is quite dynamic. Throughout her adventure, her high-and-mighty-princess mentality changes as she deals with the events that unfold around her. Dorthea realizes that maybe – just maybe – the Storymakers aren't the ones that create the ending, but herself.
"Though I still believed in the Storymakers, I'd started to question how much control I had on how this story turned out. Maybe it was me and not the curse that would determine the kind of person I became…
"Hero or villain – it was up to me to decide."
Although the love interest is a creature for a large portion of the book, don't be fooled! They're still really cute together and my tweet says it all.
All in all, don't let this light-hearted fairy tale fool you. The plot is actually quite interconnected, and the twists keep on coming, even until the end. The main character, Dorthea, had a lot of depth but I would have liked to see the other characters like Kato and Rexi expanded on. I feel like there's so much potential behind their backstories – especially Rexi – that the author didn't get to cover in this book.
The end definitely has unresolved issues that there better be a sequel for. Because this will be my face until a sequel is announced:
I came for the fairy tale, I stayed for the awesome main character and co., cute romance, and exhilarating plot.
BETSY SCHOW is the TODAY Show featured author of the non-fiction book, Finished Being Fat; however she's been mixing up real life and fantasy for as long as she can remember. If someone were to ask about her rundown truck, she's 100% positive that mechanical gremlins muck up her engine. And the only reason her house is dirty is because the dust bunnies have gone on strike. She lives in Utah with her own knight in geeky armor and their two princesses (that can totally shapeshift into little beasts). When not writing, she acts as the Tournament Director for Odyssey of the Mind and helps teach kids creative thinking (or how to turn their toasters into robots).
Her debut novel, Spelled, comes out June 2015 from Sourcebooks. She is represented by Michelle Witte, Mansion Street Literary Agency.
Check out the other stops on this tour! 😀
May 25
A Reading Nurse & The Unofficial Addiction Book Fan Club – Welcome Post
May 26
Addicted Readers – Guest Post
Her Book Thoughts – Review
Nick's Book Blog – Review
Once Upon a Twilight – Review
Book Club Sisters – Review + Dream Cast
May 27
Mom With A Kindle – Interview
Bookish Things & More – Review
Wishful Endings – Review
Ink of Blood – Review
Library of a Book Witch – Review + Dream Cast + Playlist
May 28
Watcha Reading – Interview
Boricuan Bookworms – Review + Favorite Quotes
Pretty Little Pages – Review + Dream Cast
Feed Your Fiction Addiction – Review
Little Hyuts Reviews – Review
May 29
Storybook Slayers – Guest Post
Because Reading is better than real life – Review
Will Read For Feels – Review
The Best Books Ever – Review
A Dream Within A Dream – Review
May 30
DanaSquare – Review + Playlist + Favorite Quotes
Lisa Loves Literature – Review
One Way Or An Author – Review (Holla!)
Coffee and Characters – Review
Cosying Up With Books – Review
May 31
The Book Bratz – Review + Favorite Quotes
Sergio Dice – Review
bookaholics anonymous online – Review
Such a Novel Idea – Review + Playlist