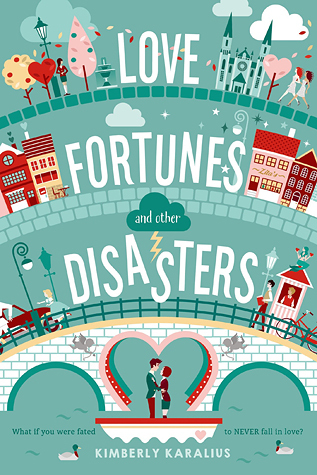 Love Fortunes and Other Disasters
Author: Kimberly Karalius
Release Date: May 12, 2015
Get it here: Amazon | Book Depository | Barnes & Noble
Synopsis:
In the tradition of Alice Hoffman's Practical Magic, one girl chooses to change her fortune and her fate by falling in love.
Love is real in the town of Grimbaud, and Fallon Dupree has dreamed of attending high school there for years. After all, generations of Duprees have successfully followed the (100% accurate!) love fortunes from Zita's famous Love Charms Shop to happily marry their high school sweethearts. It's a tradition. So she is both stunned and devastated when her fortune states that she will NEVER find love.
Fortunately, Fallon isn't the only student with a terrible love fortune, and a rebellion is brewing. Fallon is determined to take control of her own fate—even if it means working with a notorious heartbreaker like Sebastian.
Will Fallon and Sebastian be able to overthrow Zita's tyranny and fall in love?
In this creative and charming story of a quaint town where romance is dictated by love fortunes, Karalius brings to life wonderful characters that choose to defy what fate has in store for them.
One word I can give to describe the writing is atmospheric. The descriptions of the town Grimbaud make me want to pack my bags and move there. Seriously, let me go to high school with the characters or something. Despite having magical elements, Karalius weaves it into the story so naturally that I didn't blink when learning that the charms in the town actually work like magic.
I absolutely loved reading about Fallon and her friends.
So you're living in a town where people's love lives are predicted by a mysterious woman named Zita, who delivers these love fortunes to you that never steer off course. You meet the love of your life by wearing the color red? Happens. You'll get rejected by the person you like? Happens. There are good and bad fortunes, but imagine if you get this:
"Your love will never be requited."
Isn't that scary as heck? Our main character Fallon is obviously devasted by it, too, after receiving it in the opening chapter. Instead of passively accepting it though, she and a group of people with similarly unlucky fortunes concoct a plan to rebel against Zita and her prediction. Each character has motives for doing it, but all of them stem from the unjust fortune that has marked their love life to an end.
"Mirthe quirked an eyebrow. 'Life is about making mistakes. If you don't take chances, blindfolded and frightened as you are, you're not really living, are you? Heartache makes you stronger. Misery is the stuff of good poetry. You're denying yourself much more than the bad things in life by listening to Zita's fortune.'"
This book really stuck to the publishing company name (Swoon Reads), because all the couples in this book are certainly swoon-worthy. Each character has their quirks and idiosyncracies that make them unique. No couple is left behind, and I really enjoy the detail Karalius pays to the supporting characters. The cast of characters in this book will make you grin and giggle in anticipation to their antics.
I came for the adorable cover and intriguing blurb, and I stayed for the lovable cast of characters, unique plot, and delightful romances that sparked up despite the disasters that happened in this book.