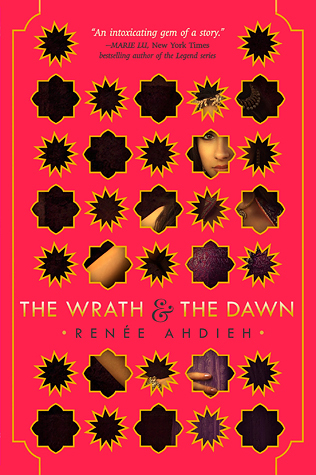 The Wrath and the Dawn
Author: Renee Ahdieh
Series: The Wrath and the Dawn
Release Date: May 12, 2015
Get it here: Amazon | Barnes & Noble | Book Depository
Synopsis:
A sumptuous and epically told love story inspired by A Thousand and One NightsEvery dawn brings horror to a different family in a land ruled by a killer. Khalid, the eighteen-year-old Caliph of Khorasan, takes a new bride each night only to have her executed at sunrise. So it is a suspicious surprise when sixteen-year-old Shahrzad volunteers to marry Khalid. But she does so with a clever plan to stay alive and exact revenge on the Caliph for the murder of her best friend and countless other girls. Shazi's wit and will, indeed, get her through to the dawn that no others have seen, but with a catch . . . she's falling in love with the very boy who killed her dearest friend.She discovers that the murderous boy-king is not all that he seems and neither are the deaths of so many girls. Shazi is determined to uncover the reason for the murders and to break the cycle once and for all.
Sooo these gifs pretty much sum up how I've been recommending this book:
What's it about?

What's it like?

Um, what the heck was that?


(Minus the book throwing, because they're way too precious to handle like that.)
Right off the bat we have our main character Shahrzad sacrifice herself to the murderer king to kill him like he killed others.
Honestly, I feel like readers will either hate Shazi or really like her. Of course, I fall into the latter (see rating), but she is snarky af man. In the dialogue you will hear her screaming and demanding and all the shabam but was I annoyed at her? Nah man. I thought it showed how strong her character is despite the situation she landed herself into. But in a way, I would totally get if readers were like, "What IS this girls' problem?" Me though, I enjoyed watching her stand up for herself in front of the people in the palace.
I think the only thing that I was wary of was Shazi's hesitancy in doing her job in the blurb.
"Enough was enough.
It did not matter that Musa-effendi had hinted about a tragic past.
It did not matter that this world was far from as simple as she might have thought.
And it absolutely did not matter that her heart was… misbehaving.
She had come to the palace with a purpose."
Despite these words, Shazi does a pitiful job at doing that "purpose." She attempted some things, but never really went through with it, earning her this star:


And while I am usually quite disgruntled and irritated when characters do that, those feelings were swept away by…
THE ROMANCE
It started out with hate and wariness on Shazi and Kalid's side respectively, but obviously it develops into something more. The pacing is enough where the readers never got bored, but also are never bewildered when things took a turn. And these QUOTES man, they kill me every time I read them.
"'There is no one I would rather see the sunrise with than you.'"
"For nothing, not the sun, not the rain, not even the brightest star in the darkest sky, could begin to compare to the wonder of you."
Things are intense in this one guys.
"'Murderer, monster, mad man… Khalid may very well be all of those things. But he's also loved. By me and by my father. But, most of all, by Shazi. With her, he is as fiercely loved as he loves.'"
THE CULTURE
I! Love! The! Arabian! Nights! And! This! Book! Doesn't! Disappoint! With its references to it. (The exclamation marks were getting tiring, sorry.) The setting, clothes, and even FOOD have opened my eyes to a whole new world for me that I will not forget.
Especially the food. Someone take me there because reading about the food makes me want to cry tears of joy.


I dunno if these are even the right dishes (I mean, that's how they're described in the book but ya never know) but food+culture always get me worked up okay.
THE PEOPLE
I liked everyone in this book. From the most minor character you can think of to the supporting cast that make the main characters who they are, each one had a role and a reason behind it. In my opinion, those reasons are rightly justified and even if some people act stupidly, I could see why.
The ending wasn't a cliffhanger, but gave just enough for readers to anticipate the sequel. (Although honestly, I kind of just want it NOW.)
If you like fantasy, diversity, romance, action, gorgeous settings, heroines who fight for what they want, EXOTIC FOOOOD, awesome supporting cast, and/or characters who draw a thin line between right and wrong, then why isn't this book in your hands yet?