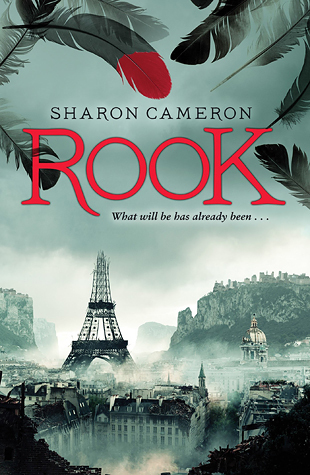 Rook
Author: Sharon Cameron
Release Date: April 28, 2015
Synopsis:
History has a way of repeating itself. In the Sunken City that was once Paris, all who oppose the new revolution are being put to the blade. Except for those who disappear from their prison cells, a red-tipped rook feather left in their place. Is the mysterious Red Rook a savior of the innocent or a criminal?Meanwhile, across the sea in the Commonwealth, Sophia Bellamy's arranged marriage to the wealthy René Hasard is the last chance to save her family from ruin. But when the search for the Red Rook comes straight to her doorstep, Sophia discovers that her fiancé is not all he seems. Which is only fair, because neither is she.
As the Red Rook grows bolder and the stakes grow higher, Sophia and René find themselves locked in a tantalizing game of cat and mouse.
Imagine a future where we go back in time. Where technology is banned because of the "dangers" it possess, so essentially we're living in the time of the Middle Ages – even though it's way past the twentieth century. I mean, history does tend to repeat itself, right? That's the setting in Rook by Sharon Cameron, and it's one that I love.
Essentially it's a dystopian in France, and the book starts while we're at the cusps of a revolution. Because, ya know, those French like their revolutions, am I right?
Anyway, at the heart of this revolution is the Rook, a mysterious figure who saves innocent prisoners from the corrupt government. At the same time, the main character Sophia is trying to save her family from debt by marrying René. They're both awesome characters that compliment each other. Sophia is courageous and gets things done – she's definitely a character that I enjoyed reading about. At first, René seems like one of those f-boys in high school that don't give two shits about what happens in class. However, he has hidden depths that unfurled throughout the story.
The romance was defintiely swoony and I had no qualms about it. There's technically a love triangle, but don't worry, it's not one of those frustrating kinds and it's pretty important to the plot. The villain was a little one-dimensional, if only because he's the menacing kind that has no other side. As much as I love these evil villains, he fell a bit flat in his radical appeals with religion, which spurred his actions. It was a villain I loved to hate, but not one that I could understand, in terms of his corrupt actions.
I basically fell in love with the world. The first scene of the book was a beheading scene, and how fitting is that for France? Again, French society is separated into another unfair social structure that have people clambering for change. Thus, the revolution. The only plot hole I see is that the Rook wanted to save the prisoners – however, we are assuming that all the prisoners are innocent. Sure, there are some people in prison who shouldn't be there, but aren't there actually, like, legit psychopaths in these prisons? They're there for a reason, right? So I didn't see the point in that, but I decided to ignore it and pretend all the prisoners that were there were falsely accused.
Overall though, this was definitely an awesome book that I will be rereading. It's also a stand-alone! I love that, since nowadays we have these killer cliffhangers for series that are like four books long. Not saying I don't like those, but it's a nice change to read a story that starts and ends with one book. I came for the eye-catching cover, I stayed for the enjoyable characters, superb world, and heart-racing plot!