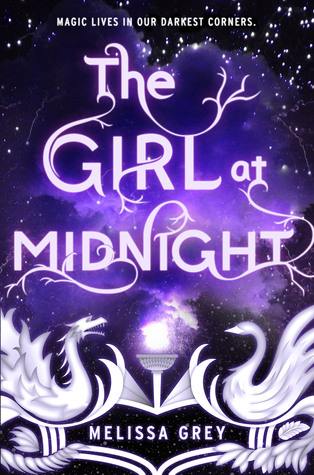 The Girl At Midnight
Author: Melissa Grey
Series: The Girl At Midnight
Release Date: April 28, 2015
Synopsis:
For readers of Cassandra Clare's City of Bones and Leigh Bardugo'sShadow and Bone, The Girl at Midnight is the story of a modern girl caught in an ancient war.Beneath the streets of New York City live the Avicen, an ancient race of people with feathers for hair and magic running through their veins. Age-old enchantments keep them hidden from humans. All but one. Echo is a runaway pickpocket who survives by selling stolen treasures on the black market, and the Avicen are the only family she's ever known.
Echo is clever and daring, and at times she can be brash, but above all else she's fiercely loyal. So when a centuries-old war crests on the borders of her home, she decides it's time to act.
Legend has it that there is a way to end the conflict once and for all: find the Firebird, a mythical entity believed to possess power the likes of which the world has never seen. It will be no easy task, but if life as a thief has taught Echo anything, it's how to hunt down what she wants . . . and how to take it.
But some jobs aren't as straightforward as they seem. And this one might just set the world on fire.
To be completely honest, I started this book with quite low expectations. Many of the reviews I've seen passing through have been like "Ohh this reminded me of _____" or "Wow I haven't seen that before," or something similar. Following on that trail of honesty is that this book is very, very enjoyable! Sure, the theme sometimes reminds me of Daughter of Smoke and Bone (quite a bit sometimes), but overall the book really manages to stand out on its own. 
First off, the main character Echo is a breath of fresh air. She's the kind of snarky, sarcastic and clever person that I wish I could be. (I am a little, mentally haha.) So during serious moments, expect her to make a comment to diffuse the tension. I know that may not be endearing to some readers, but that's what I love about her character. And when she gets serious, she gets down. That's when you know that something is up.
Not only that, but she's so relatable! Thank God for a character that's a human being. Echo likes books, she's messy, and yeah she has all these swoony emotions for the love interest(s) ("meh," I say), but she's so amusing I forgive her.
"Hunger waited for no woman." 
The world building in the book is fantasta-smasta-shmastic! And quite simple, really. Supernatural, other-wordly beings, yeah? Magic and that shizzam man. Read the book to find out what's that all about, because in this book are some cool creatures you really don't want to miss.
The character relationships in this book make me so happy. Eventually, Echo gets her own rag-tag little team in her quest in the book. All the characters were unique and had their own three-dimensional personality that popped off the page. The gay relationship was also not too shabby, either. No insta-love in that department. Friendships are forged and despite each character's differences, they manage to trust one another.
"Enunciating each word carefully so their meaning wouldn't be lost on Caius, he said, 'You. Are. My. Friend. And I will follow you anywhere. Now, let's go.'"
And yeahh talking about relationships, let's get to the main romance. It was alright, I guess, but this reader did not really experience any flutters with the main love interest (nor the secondary). It was a "love triangle," but in the terms of you know who the girl really wants, amiright. I guess the main couple had endearing moments that kinnnnddd of moved my heart, but overall I'm quite apathetic to it.
But it wasn't bad or annoying, and it certainly fit with the plot of the book.
The writing really drew me in with its cutthroat action, especially during the middle of the book when things get intense. But even before, the author managed to draw me in with her empathetic characters.
"'Sometimes,' the Ala said, 'when I'm feeling sad, I like to be around all these books. They're very good at making you forget your troubles. It's like having a million friends, wrapped in paper and scrawled in ink.'"
In the end, it certainly reminded me of various books. But despite those recurring themes, The Girl at Midnight can certainly stand on its own against the fantasy books today with its certainly unique concept, and even more engaging characters.
I came for the fantasy and hype, I stayed for the realistic and unique cast of characters as well as the exciting plot!