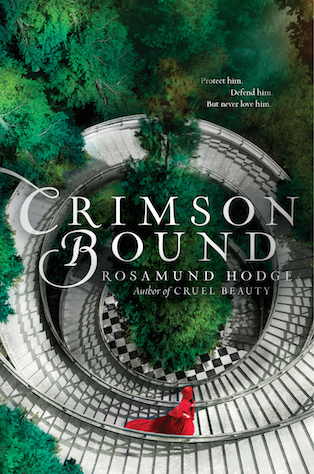 Crimson Bound
Author: Rosamund Hodge
Release Date: May 5, 2015
Synopsis:
When Rachelle was fifteen she was good—apprenticed to her aunt and in training to protect her village from dark magic. But she was also reckless— straying from the forest path in search of a way to free her world from the threat of eternal darkness. After an illicit meeting goes dreadfully wrong, Rachelle is forced to make a terrible choice that binds her to the very evil she had hoped to defeat.Three years later, Rachelle has given her life to serving the realm, fighting deadly creatures in an effort to atone. When the king orders her to guard his son Armand—the man she hates most—Rachelle forces Armand to help her find the legendary sword that might save their world. As the two become unexpected allies, they uncover far-reaching conspiracies, hidden magic, and a love that may be their undoing. In a palace built on unbelievable wealth and dangerous secrets, can Rachelle discover the truth and stop the fall of endless night?
Inspired by the classic fairy tale Little Red Riding Hood, Crimson Bound is an exhilarating tale of darkness, love, and redemption.
(This is a standalone novel, not part of the Cruel Beauty Universe.)
Remember that one Busch Gardens Howl-O-Scream song?
"In the dark side of the gardens, there's so much you will find.
The only thing you'll have to lose is a little of your mind."
[cue screaming]
Basically the song describes this book except you replace "gardens" with "forest." Because the Great Forest in this book? Hella creepy, and hella awesome.
Rachelle (aka Little Red Riding Hood) was raised to be the woodwife of the village she was raised in. They protect the village with charms and help the sick, as Rachelle's aunt did. In an unfortunate event, Rachelle was marked by a forestborn – one of the servants of the Devourer, who is the god of the Great Forest. Being marked means a lot of things, and it basically ends with the person becoming a forestborn themselves. These creatures are heartless and inhumane – they have no morals and are only guided by a future ruled by the Devourer.
Obviously this brings a lot of strife in Rachelle's life. Despite this event, she is a strong character who wants her revenge on the forestborn who marked her and the Devourer of the forest itself. When Rachelle gets more involved in the palace life, she sticks to her goals. She does not let herself get sidetracked by hot princes (if there are any), court gossip, or flashy makeup.
"Rachelle would have her chance to fight then, and she would kill him. No matter the price.
She fell asleep still promising."
She is ruthless and sticks to her goals, and doesn't stray from her path – even for a guy. (As is usual in YA fiction.) Go you, Rachelle. If you like strong, capable main characters that know how to survive and survive well, you're in luck! If you like them to be super goody-goody, then you're not in luck anymore. Rachelle is selfish. She is ruthless. She knows how to fight, and will kill if necessary.
"'She killed. She was exactly like me. And like her, I will die for my sins and go to hell.'"
The magical aspects of this book are done so well! I absolutely adore Hodge's writing, and the way she makes the setting seem so surreal. I loved it in Cruel Beauty, and I love it now in Crimson Bound. Before each chapter the author tells a legend that goes in tandem with the story in the book. It is creepy and sets an ominous setting for when the chapter starts. In other words, I loved it. This book is dark and dangerous. Venture at your own risk.
"'My Mother, she killed me
My father, he ate me.
I once had a name,
But now I have none.'"
I always have to talk about the romance in books, and here there is no exception. I'm surprised there's a love triangle in here, but not the kind you think. There is no Team Gale or Team Edward. There's lust, there's (maybe?) love, there's deception, need, friendship, loyalty, greed, envy, and hatred. I feel like I almost named all the Seven Deadly Sins haha. But going back, the characters' relationships aren't straightforward. They all have ambiguous feelings that range from the list mentioned above, which contribute to their characters. There's so many twists and turns that the end just made me want more.
This is definitely a must-read for people who like fantasy. You don't even have to enjoy fairy-tale retellings, because the book is so much more than that. It delves deep into dark thoughts and situations, so caution when reading if you're the type to shy away from morbid books.