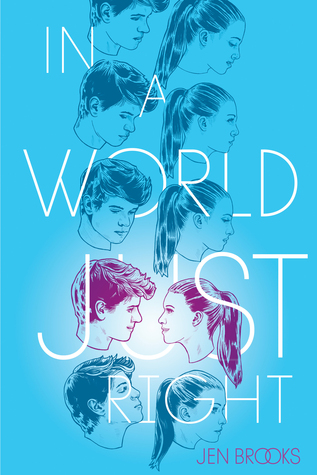 In A World Just Right
Author: Jen Brooks
Release Date: April 28, 2015
Get it here: Amazon | Barnes and Noble | Book Depository | Indiebound | Kobo
Synopsis:
Imagination takes on new meaning for a uniquely talented teen in this debut novel that is a breathtaking blend of contemporary, fantasy, and romance.Sometimes Jonathan Aubrey wishes he could just disappear. And as luck—or fate—would have it, he can. Ever since coming out of a coma as a kid, he has been able to create alternate worlds. Worlds where he is a superhero, or a ladies' man, or simply a better version of himself. That's the world he's been escaping to most since sophomore year, a world where he has everything he doesn't have in real life: friends, a place of honor on the track team, passing grades, and most importantly, Kylie Simms as his girlfriend.But when Jonathan confuses his worlds senior year and tries to kiss the real Kylie Simms, everything unravels. The real Kylie actually notices Jonathan…and begins obsessing over him. The fantasy version of Kylie struggles to love Jonathan as she was created to do, and the consequences are disastrous. As his worlds collide, Jonathan must confront the truth of his power and figure out where he actually belongs—before he loses both Kylies forever.
I received a copy of this book in exchange for an honest review. Thanks Edelweiss and Simon & Schuster Books!
The idea of parallel universes is always one that I enjoy reading about, and this one seemed like a new take on it! It's definitely an important aspect of the story, but not much is explained in regards to the actual parallel universes. Instead, the book focuses more on Jonathan's character and the relationship developments with the people around him.
Back to the parallel universe aspect: this is not a science fiction novel. I'd place it around science-fantasy, because we have this sci-fi idea but it's not technically explained in the story, leaving much of the reasons why it takes place to the reader's imagination. I don't mind that, since that way we have more pages to focus on the characters.
Jonathan starts out as a really pitiful character for me.
"When he returned to school, kids were afraid of him. Teachers tried to be nice, but they just couldn't stop every kid who whispered, 'Frankestein.' Jonathan learned to take it quietly."
No one notices him when he's at school, so that's why he goes to his alternate world – because in that one, people do. In that one, his long-time crush is his girlfriend. As the book progresses, he stands out as a bit selfish. Not knowingly or with a negative attitude, but one of those selfishness that stems from self-pity.
It's during the middle of the book where I had some issues. He learns more about his power and the effect it has on Kylie (his crush). Jonathan does some stalker-like things that I found distasteful, but again, I feel as if it stemmed from his selfishness, which in turn is fueled by a low self-esteem. I didn't like what he did, but at the same time I felt really bad for the kid. And yeah, at this point I was ready to skim through the book and be done with it.
BUT – Jonathan does try to set things right, and there's an unexpected twist towards the end of the story. That plot twist did it for me; it made Jonathan's character grow dynamically, it expanded the story, and overall it got me excited all over again. The self-discovery that our main character goes through is phenomenal, and I enjoyed going from sympathizing with him to rooting for him at the end.
I'm learning that escape is not the answer. When you return to the real world, your problems haven't solved themselves in your absence."
While Jonathan was an enjoyable character to read about, the others were lackluster and had less detail. Kylie herself (or, her multiple selves) were so-so, but she seemed like a passive character who just went with the flow. I mean, if I knew that someone made another version of me I would be pissed. But she wasn't, so I'd describe her as an all-around sweet girl but dry cardboard.
I came for the alternate worlds, I stayed for the main character's self-discovery and lessons learned.