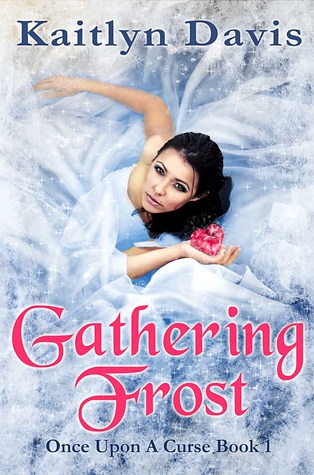 Gathering Frost
Author: Kaitlyn Davis
Series: Once Upon A Curse #1
Release Date: February 17, 2015
Synopsis:
Will his kiss be enough to revive her frozen heart?Once Upon A Time meets La Femme Nikita in GATHERING FROST, a dystopian romance from bestselling author Kaitlyn Davis that reimagines the classic fairy tale of Sleeping Beauty.Jade was only a little girl when the earthquake struck. Before her eyes, half of New York City disappeared, replaced by a village that seemed torn out of a storybook. Horses and carriages. Cobblestone streets. A towering castle. And, above all, a queen with the magical ability to strip emotions away.Ten years later and Jade has forgotten what it is to feel, to care…even to love. Working as a member of the queen's guard, she spends most of her time on the city wall staring at the crumbling skyscrapers of old New York. But everything changes when the queen's runaway son, Prince Asher, returns. Jade is tasked with an unusual mission–to let the Prince capture her, to make him trust her, and then to betray his secrets to the crown. In return, she'll earn her freedom. But life outside the queen's realm is more than Jade bargained for. Under Asher's relentless taunts, her blood begins to boil. Under his piercing gaze, her heart begins to flutter. And the more her icy soul begins to thaw, the more Jade comes to question everything she's ever known–and, more importantly, whose side she's really on.
This was certainly a cool book. I mean, icy that it really made an impression on me. These puns are really snow joke guys. Alright, alright, I'll chill!
Sorry I just had too much fun with these ice puns. Like I had so much fun with this book. To be completely honest, I have no clue what La Femme Nikita is and my only experience with Once Upon A Time is getting mad at the main character because she was so damn stupid until the end of the first season.
This is supposed to be a Sleeping Beauty retelling, and there are certainly many aspects of the story. But the world in the book is truly its own. We have two parallel universes, and somehow they came together so it created a dystopian-like New York  that's also quite medieval, like in fantasy books. Talk about the best of both worlds, am I right?
I think the author did a great job on getting the populous's reaction with a queen suddenly ruling the city. With the queen's magic at her disposal, technology isn't something people can use. We're thrown back into the world where castles rise and people's emotions are stripped away.
"Once these vacant streets held cars. Once they were safe to walk on, to ride on. Once they were smooth.
"But now anymore."
Speaking of no emotions, that's exactly what our main character Jade has. A heart of ice and no feeling. The queen herself is ruthless af and we can see from early in the story that she's 110% organic villainess, with no added preservatives or niceties.
"'I had a husband once, did you know that? I killed him, just after Asher was born. The man was weak, so easily controlled, so predictable. All the time, trying to save me from myself.' She snorts, sneering as her fingers grasph the stone below our fingers."
Jade is such a great, dynamic character that really changes throughout the book. This in part is due to the aid of Asher, the prince and also a rebel against the queen. He's such a sweetheart and their romance was so enjoyable to read. No lame manipulation (other than the deception Jade has to do mentioned in the blurb) or lying or love triangles.
Jade's transition from some cold, unfeeling warrior into a girl that gets angry, sad, and happy is realistically written. She isn't changed from one day like *snap*, and when she does realize that she's feeling sad, she cries it out. It was really well-done, and Jade coming to terms with her actual self buried under the layers of magic was something great to read.
"This madness is not me.
I am steady. I am a rock. I am not the storm that rages and spits fire into the sky.
'What is happening to me?' I whisper."
It seems like the next book in the series will be a companion book rather than continuing off with this couple's story. It makes sense, since this book had a nice closure that left me thoroughly satisfied. I came for the fairy tale retelling, I stayed for the awesome world, superb romance and endearing characters.