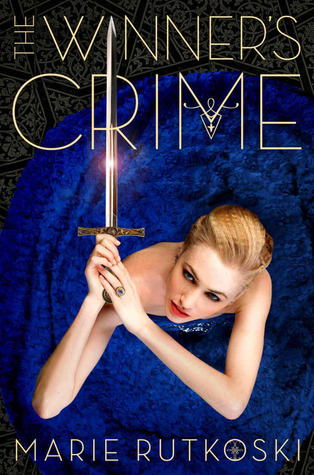 The Winner's Crime
Author: Marie Rutkoski
Series: The Winner's Trilogy
Release Date: March 3, 2015
Rating:


Summary:
Book two of the dazzling Winner's Trilogy is a fight to the death as Kestrel risks betrayal of country for love.
The engagement of Lady Kestrel to Valoria's crown prince means one celebration after another. But to Kestrel it means living in a cage of her own making. As the wedding approaches, she aches to tell Arin the truth about her engagement… if she could only trust him. Yet can she even trust herself? For—unknown to Arin—Kestrel is becoming a skilled practitioner of deceit: an anonymous spy passing information to Herran, and close to uncovering a shocking secret.
As Arin enlists dangerous allies in the struggle to keep his country's freedom, he can't fight the suspicion that Kestrel knows more than she shows. In the end, it might not be a dagger in the dark that cuts him open, but the truth. And when that happens, Kestrel and Arin learn just how much their crimes will cost them.
This book made me physically in pain.
ONLY BECAUSE IF THE CHARACTERS WERE STRAIGHT UP WITH EACH OTHER NONE OF THIS DRAMA WOULD'VE HAPPENED.
Other than that, the book was beautifully written with the most heartwrenching metaphors (Seriously! Never in my life have I been so emotional towards a goddamn moth!) that cut straight to your heart.
What I Liked: 
– Political scheme is solid and intriguing. 
Thoroughly enjoyable. It makes sense, and Kestrel isn't a hesitant nobody in the grand scheme of things. She thinks for herself, and for the people she love. EVEN THOUGH SHE COULD HAVE TRUSTED AND TOLD THEM.
But I totally get where her trust issues come from, growing up with the father she has. ('Dis man though!) Either way, she's still smart and quick on her feet when faced with the deviousness of the king and rest of the court.
– We see some scenes in Arin's POV.
Ha well honestly, I don't remember if the first book had it or not. I still enjoyed hearing his thoughts in this one though, because it gets readers to see more of his character. His conflicting thoughts, and why he does things are bared out and the inner turmoil is nicely explored when we see things from his point of view.
BUT, NOT EXPLORED ENOUGH WHERE HE TELLS KESTREL WHAT HE REALLY THINKS.
– Like I said in the beginning, writing is A+. 
There's something just really eloquent with the author's writing, and the images she gives are so memorable. Also, never will I look at moths the same again. Who knew they could help spies so much?
What I Didn't Like:
(Basically a rant about Kestrel and Arin not communicating well.)
Skip if you don't like minor spoilers! 🙂
Why can't you characters be straight up with each other??
DO you know how much tension was in me during the whole book because someone wouldn't tell the goddamn truth?!?!?!?
AND WHEN YOU DECIDE TO, WHY DON'T YOU JUST D O IT?
Why you gotta make petty lies, and ungrounded accusations, and feeble excuses?
COME ON CHARACTERS, YOU BETTER THAN THAT.
You literally had me going like
the whole time. 0/5 recommended because that hurts your neck like hell.
Anyways, the sequel to The Winner's Curse definitely lived up to expectations for me, and Marie weaves enough magic into the writing to make me stick with the exasperating characters (whom I still love, don't get me wrong).
Rating: 3.5/5