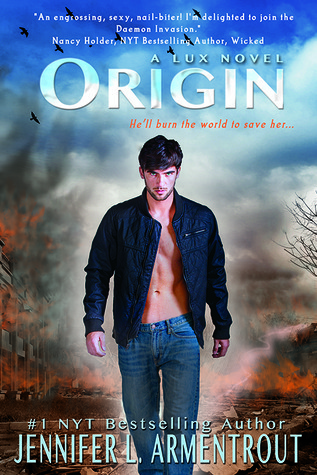 Origin
Author: Jennifer L Armentrout
Series: Lux
Release Date: August 27, 2013
Rating:


Summary: 
Daemon will do anything to get Katy back.
After the successful but disastrous raid on Mount Weather, he's facing the impossible. Katy is gone. Taken. Everything becomes about finding her. Taking out anyone who stands in his way? Done. Burning down the whole world to save her? Gladly. Exposing his alien race to the world? With pleasure.
All Katy can do is survive.
Surrounded by enemies, the only way she can come out of this is to adapt. After all, there are sides of Daedalus that don't seem entirely crazy, but the group's goals are frightening and the truths they speak even more disturbing. Who are the real bad guys? Daedalus? Mankind? Or the Luxen?
Together, they can face anything.
But the most dangerous foe has been there all along, and when the truths are exposed and the lies come crumbling down, which side will Daemon and Katy be standing on?
And will they even be together?
There's a point where the level of cheesiness has reached its limit, and this book did it for me. Seriously, alien and mutant human children with crazy powers? Vegas wedding at the tender age of not-yet-19? Do people really obsess over this stuff?
But I can see why people like it. The search for more than the mundance of their lives, and hot aliens to boot. You honestly can't get rid of the corniness when dealing with this subject, and I totally commend Jennifer L Armentrout for doing so, and getting so many people on board with it.
However, that doesn't mean I'm a huge fan of it. More like I joined the bandwagon, and it was something cute that could fill in my time. We have good elements of family and friends in here, but I realize that, truthfully? All the characters are so fucking selfish.
It's about what they want and about their family and their lives and Daemon and Katy and Dee and everyone else in their lives.
Notify the whole world of a the existence of extraterrestrial life? If it means protecting the fam, sure!
NO??? NOT REALLY OKAY???
But I also get that it's a romance. Who cares about the greater good if you're trying to save your hot boyfriend husband and his extended family? Obviously not someone like Katy.
I'm going to end this with a PSA: This book is not bad, but I just don't think this romance genre is for me. There are too many factors to take into account, and instead of an alien romance I think I'd rather read an alien invasion. Romance is still bae, but I'll appreciate it more when I'm in the mood.
Considering the fact that the last school quarter is starting, I'm definitely in the mood to see some heroines kick booty rather than get the booty.
Rating: 3/5