Liars, Inc
Author: Paula Stokes
Release Date: March 24, 2015
Rating:


Summary:  For fans of Gone Girl, I Hunt Killers, and TV's How to Get Away with Murder. Max Cantrell has never been a big fan of the truth, so when the opportunity arises to sell forged permission slips and cover stories to his classmates, it sounds like a good way to make a little money and liven up a boring senior year. With the help of his friends Preston and Parvati, Max starts Liars, Inc. Suddenly everybody needs something and the cash starts pouring in. Who knew lying could be so lucrative? When Preston wants his own cover story to go visit a girl he met online, Max doesn't think twice about hooking him up. Until Preston never comes home. Then the evidence starts to pile up—terrifying clues that lead the cops to Preston's body. Terrifying clues that point to Max as the murderer. Can Max find the real killer before he goes to prison for a crime he didn't commit? In a story that Kirkus Reviews called "Captivating to the very end," Paula Stokes starts with one single white lie and weaves a twisted tale that will have readers guessing until the explosive final chapters.
I received a copy of this book in exchange for an honest review. Thanks Edelweiss and HarperTeen!
This was pretty thrilling, if I hadn't guessed the murderer in the beginning. It was definitely a lucky guess – I mean, I had no reasoning to back it up. But since I stuck with that theory throughout the book and it proved right, it kind of brought the excitement down. Or maybe up, since I was laughing too hard. SERIOUSLY. I'm too proud of guessing the murderer I'm just going to ignore the fact it was a wild (and lucky) guess.
It all starts with Liars, Inc becomes created. It's the place you go to if you want to get a copy of that math quiz, or get someone to call in sick for you, or pretend to be at when you're hanging with your girlfriend. 
"'Liars, Inc. All of your duplicitous needs serviced by Max et al.'"
This scheme takes up the first couple of chapters, and it only goes a little bit into the book. In fact, the real mystery has nothing to do with Liars, Inc. I mean, someone "lied" for someone under the guise of Liars, Inc, but it certainly wasn't necessary for the murder that happened. Either way, I definitely appreciated it, since the message of the book is lying.
Lying, and how you don't really seem to know someone. I admit, I was definitely intrigued in the book because of How to Get Away With Murder in the blurb. I fell in love with that show and I'd say that Liars, Inc. clearly has similar messages to it. Do you really know your best friend, or husband? Sometimes the person you know isn't who you think it is, until it's too late… And I really got that from both book and TV show.
Each character had their ups and downs. Preston and Parvati are the rich kids who grew up with everything they could want for, while Max is the poor(er) guy who hangs out with them. His dad owns a souvenir shop, which really can't compete to Preston's dad with the political career. Get the gist of their relationship? Even so, they're good friends.
Max is a really three-dimensional character. He gets in trouble, and you could say he's one of those guys at the low end of the social spectrum. The only thing going for him is probably Parvati and his family. Other than that, he doesn't really have any aspirations and just stick close to his rich friends. Until the murder happens and Max starts to discover the truth in things…
Parvati is half-Indian, and gorgeous. Her parents don't really like her dating Max, so they keep a pretty low radar. Even though Parvati is with Max throughout most of the book, we learn that even she has secrets that she's willing to lie for…
There is sex, mentioned usage of drugs, and cursing in the book for those who are averse to such things. However, the book doesn't glorify them. No one is an addict or anything. I mean, what teen book doesn't have one or the other? Adolescence is a weird time, and it's kind of normal for teens to do such things. Either way, you're reading a murder mystery so I'm sure these things aren't surprising.
Let's be real though, none of this would have happened if the characters would just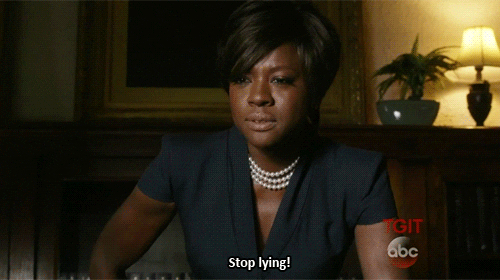 As a thriller, I'd say the book does its job. The plot manages to twist itself (despite me guessing the murderer, HA), and keeps the readers on their toes. And the lies keep on coming. This is the first YA thriller that I've read, and I liked it! There's nothing to compare it with for me, but it only goes to show how original the premise is. 
The only thing I was more than a little annoyed at was the racial stereotypes in the book. I like how Parvati was half-Indian, diversity for the win, you know?
But it doesn't make it better when the white politician's family has a Hispanic maid.
"'Preston. Enchiladas in fridge, okay? You just heat. You need more help before I go?'
'No. We're good, Esmeralda. Gracias.' he hollered back, without looking away from the computer screen."
Not only that, but she has an ACCENT too. Wow.
Oh and don't forget this:
"The twins? Other than being slightly demonic at times? They probably had heart defects or some special Asian illness Darla hadn't told us about yet."
I get that Max is the one saying this, but "special Asian illness"? I'm sorry that we Asians have different illnesses than you Americans? Literally, the only thing I search up when I type "Asian illness" is if it's from some exotic rare insect in the south or something in the water. Other than that, I'd say we have the same illnesses, right?
This just bothered me a little because come on, is it too hard to say "some special illness?"
Other than the racial things going on (I'm 105% sure it wasn't intentional), I really enjoyed the book. Mystery readers will definitely be happy about the wacko in the end who turns out to be the murderer and other psychotic events going on in the background. I still like How to Get Away with Murder better though, sorry not sorry.
Oh and Max was annoying sometimes because he was just so naive and gullible. I mean through it all he came out with experience and character depth, but it was just so tasking to read about a character trying to figure out a murder when his pastimes include getting detention on purpose so he can hang out with his girlfriend. Cute, but definitely not endearing to me. Yes, he's an underdog, but one that I rooted for with more than a little pity. I'm sure many readers will like him, but he's totally not my type.
Rating: 3.5/5