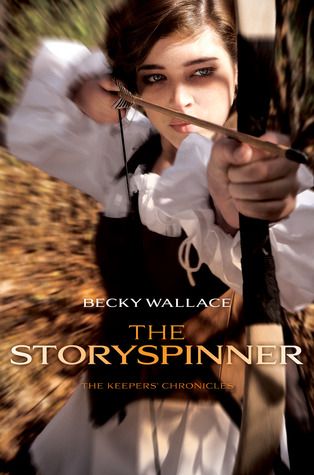 The Storyspinner
Author: Becky Wallace
Series: The Keepers' Chronicles
Release Date: March 3, 2015
Rating:


Summary: 
Drama and danger abound in this fantasy realm where dukes play a game for the throne, magical warriors race to find the missing heir, and romance blossoms where it is least expected.
In a world where dukes plot their way to the throne, a Performer's life can get tricky. And in Johanna Von Arlo's case, it can be fatal. Expelled from her troupe after her father's death, Johanna is forced to work for the handsome Lord Rafael DeSilva. Too bad they don't get along. But while Johanna's father's death was deemed an accident, the Keepers aren't so sure.
The Keepers, a race of people with magical abilities, are on a quest to find the princess—the same princess who is supposed to be dead and whose throne the dukes are fighting over. But they aren't the only ones looking for her. And in the wake of their search, murdered girls keep turning up—girls who look exactly like the princess, and exactly like Johanna.
With dukes, Keepers, and a killer all after the princess, Johanna finds herself caught up in political machinations for the throne, threats on her life, and an unexpected romance that could change everything.
I got dropped off at the mall near my house today to get some wedding presents, but I couldn't find a ride home. So I went to the Barnes & Noble there (getting wedding presents was a ploy to go to the bookstore anyway) and devoured this book in one sitting. Well, a couple, considering I had to get up to use the bathroom several times. Maybe more than usual due to excitement. That's what the book was – exciting, enthralling, and engaging.
Interestingly enough, the book is told from multiple perspectives. Like, five or six. Despite that, the story is fairly easy to follow. We have two different plotlines:
– Enter: The Keepers from Olinda, featuring Jacaré, High Captain of the Elite Guard, Leão, the grandson of the Mage Council that rules the Keepers' Land, Pira, a female warrior that can feel the element of earth, and Tex, an old Keeper that can track down almost anything with just a hint of the direction to go to. Their mission? To find the missing princess of Santarem, who is believed to have been massacred sixteen years ago. These four warriors journey from Olinda against the Mage Council's rule, pass Donovan's Wall, which was built for peace between the Keepers and humans, and follow the clues to the missing heir.
Truthfully, you find out who the missing princess pretty early on in the book. It's pretty predictable, but I think the anticipation of waiting for them to get to her is the best part. The beginning on their side is pretty much

The Keepers have magic in them, and they can control the elements. Some powerful mages like Leão can control all five, which consist of fire, earth, air, water, and the spirit, which allows him to heal people and the like. In the book, the characters discover some things about the history of Santarem that they didn't know about. There are definitely a lot of questions to be answered about it still though, and sometimes when the older Keepers answer old questions new ones arise. They got me like:
– On the other side of the wall, we have the humans that have only heard of Keepers in myths and stories, spun by Storyspinners. Johanna is the daughter of two Performers who travel with a group to, you know, perform. Early in the book she finds herself in trouble and lands up working for the local duke, Rafael. Their relationship in the beginning is pretty shaky, because he manages to accidentally beat her up. But throughout the book they begin to have a slow and steady romance that I really enjoyed.
Having so many different point of views made the story go pretty fast. Each chapter was relatively short, with a couple of pages of the storyline from that character's perspective. However, the author does a good job of expressing each character's different feelings and emotions throughout those short pages. You can feel Rafi's feelings of inadequacy of being a duke, Johanna's desperation to keep her family alive, and Jacaré's somber attitude of being alive throughout so many years.
The romance(s) in the book are so sweet.
YAAAS to no love triangle. Thank you. [kisses ground on Becky Wallace's feet] Thank you for showing us that no, a book does not need different love interests to be good or to capture a reader's attention. The storyline itself already covers that. The romance is a really nice addition and has enough angst without an extra character.
However, I do have some complaints on this side. Pira does that one thing I dislike where she denies her feelings and tells herself and the guy she likes that it's nothing, which confuses both the guy and herself and obviously it's definitely something, gurl. Also, so much happens in the book that a would-be couple's story totally disappears in the middle of the book. In fact, Dom's character kind of dies out in general, which is a little disappointing. It makes sense, since there's a lot of things going on, but still. Don't leave me hanging on this dude if you're going to make him so likeable man!
Speaking of leaving readers hanging, that's what this book does. When authors end a book when events are still rollin' and I'm just like

I came for the captivating cover and engrossing blurb, I stayed for the awesome characters and fast-paced story. Fantasy lovers should definitely check this out!
(A disappointing fact is that I never see Johanna use a bow in the book, like the girl on the cover. So I was kind of led on by the cover, darn you marketing department at Simon & Schuster!)
Rating: 4/5