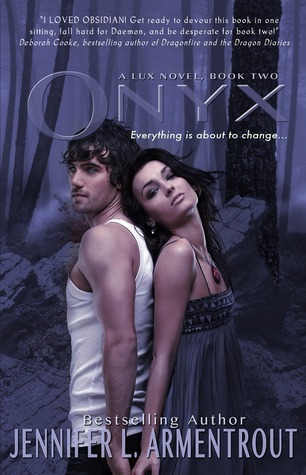 Onyx
Author: Jennifer L Armentrout
Series: Lux
Release Date: August 15, 2012
Summary:
Being connected to Daemon Black sucks…
Thanks to his alien mojo, Daemon's determined to prove what he feels for me is more than a product of our bizarro connection. So I've sworn him off, even though he's running more hot than cold these days. But we've got bigger problems.
Something worse than the Arum has come to town…
The Department of Defense are here. If they ever find out what Daemon can do and that we're linked, I'm a goner. So is he. And there's this new boy in school who's got a secret of his own. He knows what's happened to me and he can help, but to do so, I have to lie to Daemon and stay away from him. Like that's possible. Against all common sense, I'm falling for Daemon. Hard.
But then everything changes…
I've seen someone who shouldn't be alive. And I have to tell Daemon, even though I know he's never going to stop searching until he gets the truth. What happened to his brother? Who betrayed him? And what does the DOD want from them—from me?
No one is who they seem. And not everyone will survive the lies…
Still on this series! (Still hating the covers…) I think I'll read one book from this series every week. That'll take me another month to finish it, and I can cross it off my to-read pile! I really think the second installment brought a lot of material into the series. We find out a lot more about the Lux themselves and who the bad people are.
What I Liked:
– Daemon and Katy need to get a room.
The chemistry between these two? Sizzling. Not a big fan of the teenage hormones going down, but I can see where it takes their relationship. They're definitely developing into an OTP of mine.
"'Cookie?' he offered, holding a cookie full of chocolate chips.
Upset tummy or not, there was no way I could refuse that. 'Sure.'
His lips tipped up one side and he leaned toward me, his mouth inches from mine. 'Come and get it.'"
Dang bae.
– We find out more about the Lux and what's happening in town.
There are some predictable things going on, but at the same time there are some pretty wacko things that made me (figuratively) turn my head and go, "Whoa there!" New groups are revealed, enemies are made, characters come back from the dead,  and angst level increases by mucho. That ending? Way to kill it.
What I Didn't Like:
– Katy vacillating between her feelings (or being annoying in general).
Pick a side girl, and stick with it. In one of my past Top Ten Tuesdays, I mentioned that characters who don't know what they want bother me so much. I get that people want angst and conflict, but it doesn't have to be shoved in my face all the time.
Here is a compilation of some times where I got so annoyed with Katy that I just had to break my reading trance to note it: (+comments from me!)
"'Because it's not real,' I said. 'You didn't want me before.'"
Next are you going to start denying the sizzling attraction you guys had 100 pages before you became connected to Daemon?
"There was no way I was jealous. That so wasn't what I was feeling."
Yeah, keep telling yourself that girl.
"What was I doing? I couldn't be mad at him when I had done the same thing, but I was. It was ridiculous."
Yes, you're being ridiculous. You know it, but your frontal lobes have not completely developed yet, so you are not listening to reason.
"'It's just the challenge and the connection, Daemon. Whatever you feel for me isn't real.'"
Where have I heard this line before??? Oh, maybe the last 300 pages of the book??? At least you're consistent with your denial.
Recommended for:
People are read the first book (obviously). If you read the first but didn't like it, stick around and see if this one will bring a change of heart! The storyline gets elaborate and the characters' relationships are established. I'd definitely give this series a try if you like paranormal romance. This is for you.
Rating: 3.5/5