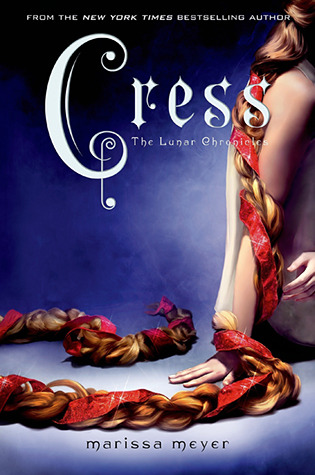 Cress
Author: Marissa Meyer
Series: The Lunar Chronicles
Release Date: February 4, 2014
Summary:
In this third book in the Lunar Chronicles, Cinder and Captain Thorne are fugitives on the run, now with Scarlet and Wolf in tow. Together, they're plotting to overthrow Queen Levana and her army.
Their best hope lies with Cress, a girl imprisoned on a satellite since childhood who's only ever had her netscreens as company. All that screen time has made Cress an excellent hacker. Unfortunately, she's just received orders from Levana to track down Cinder and her handsome accomplice.
When a daring rescue of Cress goes awry, the group is separated. Cress finally has her freedom, but it comes at a high price. Meanwhile, Queen Levana will let nothing prevent her marriage to Emperor Kai. Cress, Scarlet, and Cinder may not have signed up to save the world, but they may be the only hope the world has.
Yet another wonderful addition to the Lunar Chronicles. *sighs happily* So many OTP's in this book I can't. Does that make it Multiple True Pairings? Anyway, Cress's story follows the fairy tale Rapunzel, and yet again Marissa Meyer does a wonderful job in incorporating elements of the fairy tale into this amazing series.
What I Liked:
– Cress's character is so adorable.
Crescent has always been held captive in a satellite, so all her interactions with the outside world is via the interwebs. From there, she's researched Cinder, watched dramas, kept updated on current events, and even comes up with a little crush on Thorne. However, when the crew drops by to save her, she's plunged into the middle of earth. While Cress is absolutely delighted to finally see the earth she's been dreaming of, she also has to go through much suffering in order to accomplish her goal of bringing down Queen Levanna. Cress grows a lot throughout the book and changes from a naive, doe-eyed girl to someone who's much more mature than they look.
– We get to learn more about Captain Thorne.
Thorne is such a nice addition to the cast of characters. He's one of those guys that act all aloof and carefree when you know that inside he's actually a much, deeper, person. In this book we get more Thorne time and that makes me happy.
– Cinder x Kai = ❤


– Scarlet x Wolf = ❤


– Cress x Thorne = ❤


– All the feels.
There was this point, towards the end of the book, where almost all the characters were together and they were like a team, or even family. It was really awesome, and seeing these characters grow up brought tears in my eyes.
What I Didn't Like:
– Cinder having hesitations on saving the world.
At this point of the story we all know Cinder is one of the people to save everyone from the evil clutches of Queen Levanna. What bothered me, however, was that throughout the book Cinder has doubts on her abilities to do anything. She has so many supporters and people willing to help, and it only took like two dramatic life-changing events to make up her mind. Seriously, that decision should have been made and kept since book two girl.
– Wolf being all mopey.
Scarlet gets kidnapped in the beginning events of the book. Now, I get that they're a couple and all but Wolf totally closes himself up after that. To me, this shows a weak character. Maybe because there was so much going on there wasn't enough time to elaborate on his character, but I was really done with the sick puppy eyes he was vomiting everywhere.
– Queen Levanna needs to stop ugh.
'Nuff said.
Recommended for:
Readers of the Lunar Chronicles. People who like science fiction and fairy tales better start this series or you'll regret it. Plus the last book comes out this year [cue angel choir] so you better get caught up!!
Rating: 4/5