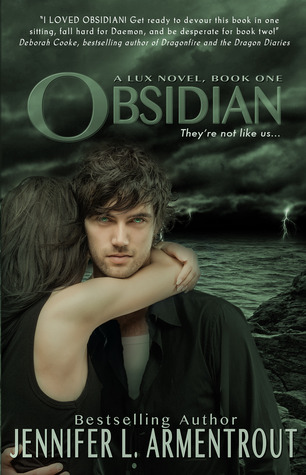 Obsidian
Author: Jennifer L Armentrout
Series: Lux
Release Date: November 1, 2011
Summary:
Starting over sucks.
When we moved to West Virginia right before my senior year, I'd pretty much resigned myself to thick accents, dodgy internet access, and a whole lot of boring… until I spotted my hot neighbor, with his looming height and eerie green eyes. Things were looking up.
And then he opened his mouth.
Daemon is infuriating. Arrogant. Stab-worthy. We do not get along. At all. But when a stranger attacks me and Daemon literally freezes time with a wave of his hand, well, something… unexpected happens.
The hot alien living next door marks me.
You heard me. Alien. Turns out Daemon and his sister have a galaxy of enemies wanting to steal their abilities, and Daemon's touch has me lit up like the Vegas Strip. The only way I'm getting out of this alive is by sticking close to Daemon until my alien mojo fades.
If I don't kill him first, that is.
The only other paranormal romance for YA I've read is Twilight, before the movie came out. I didn't necessarily hate it, but I just remember cringing so many times while reading it. Thankfully, I didn't cringe as much with this book.
I have to admit, the cover is SUCH a turn off. I'm keeping this in my eReader unless they publish a new cover, because I'm not sure I'd like to see these model's faces on my bookshelf. Who decided that having this cover was a good marketing strategy? It's not interesting at all. In fact, all the covers in this series are so unattractive. I'm going to be honest, I do indeed judge a book by its cover many times (I mean this is the worst it can get right? RIGHT?) and the only reason why I'm reading this is because of the glowing reviews. So here goes.
What I Liked:
– There is no denying that the teenage girl in me likes this story very much.
As much as I'd like to change it, I am a teenage girl that is affected by your typical school drama, love/hate chemistry, family relationships, and of course a book blogger main character. Yes, there are major cliches going on here and we're cranking up the cheesiness notch, but I guess I still… enjoyed it? To some extent.
– Writing doesn't bother me.
I'm neutral about this. The narration flows pretty well and Katy (who tells the person in first person POV) is a pretty chill character. Nothing was superbly done or notable, but nothing was disgusting and cringe-worthy either.
– Swoon-worthy romance in the house.
See, I want to not like this because of how corny the romance is, but at the same time it's so sweet I do like it. It's weird. In the beginning, Daemon and Katy hate each other. Yay for no insta-love, boo for insta-lust. Do you think that makes it better? Honestly, I feel like it's the same deal because you know they're gonna end up together when characters can't keep their hands to themselves. Anyway, the characters have very notable chemistry with each other and yeah the tension between them is off the charts.
– Best friends… are the best.
I really enjoy Katy's relationship with Daemon's twin, Dee, and two other girls in her school, Carissa and Lesa. But Dee, who has never really gotten close to people due to her situation, becomes close to Katy. Ah, the powers of friendship. ❤
– Good family relationships are good for the soul.
Dee and Daemon love each other, and you can really tell in the book. Likewise, Katy and her mother have each other's backs and I just really like how the author has this component in the story.
What I Didn't Like:
– The cover, as discussed before.
Obviously I'm not taking points off because of it though, because although sometimes I do judge a book by its cover, once I read the story I only focus on the inside of the book. It just bothers me so much I had to mention it omg.
– The cheesiness just oozes out cheese.
I'm not even sure if I like the book because of it or not. I didn't not like the book but I'm definitely not going fangirl over it. No. There's too many hackneyed and trite plot devices that enter the scene to actually amaze me. And I love my books with originality. The aliens are a nice addition, but… everything else was so 2000's.
– For supernatural beings, our characters do a really bad job in hiding it.
Lmao I know they're teenagers but seriously there's so many obvious clues. I was rolling my eyes the whole time. These people have been living 10+ years in "hiding" yet almost everyone knows something's wrong with them. Isn't that a sign that they're doing something wrong??
Recommended for:
Twilight and other paranormal romance fans. People who like romance. And don't mind a teeny tiny amount of science fiction. But romance, friends, and family, got it?
Rating: 3.5/5