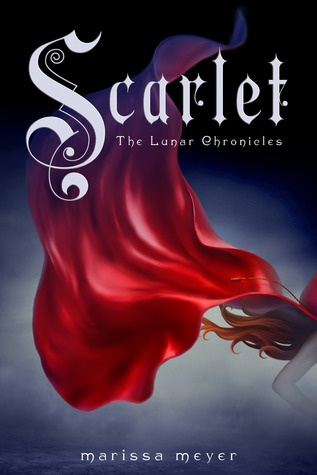 Scarlet
Author: Marissa Meyer
Series: The Lunar Chronicles
Release Date: February 5, 2013
Summary:
Cinder, the cyborg mechanic, returns in the second thrilling installment of the bestselling Lunar Chronicles. She's trying to break out of prison–even though if she succeeds, she'll be the Commonwealth's most wanted fugitive.
Halfway around the world, Scarlet Benoit's grandmother is missing. It turns out there are many things Scarlet doesn't know about her grandmother or the grave danger she has lived in her whole life. When Scarlet encounters Wolf, a street fighter who may have information as to her grandmother's whereabouts, she is loath to trust this stranger, but is inexplicably drawn to him, and he to her. As Scarlet and Wolf unravel one mystery, they encounter another when they meet Cinder. Now, all of them must stay one step ahead of the vicious Lunar Queen Levana, who will do anything for the handsome Prince Kai to become her husband, her king, her prisoner.
I reread this book before reading Cress, which I finally picked up at the bookstore the other week. I absolutely cannot wait for the last book to come out later in this year!! I've read a lot of books that are fairy tale retellings, but a series? Come on fairy tale lovers, it doesn't get better than this!
What I Liked:
– New characters are ab~so~lute~ly amazing!
We meet Scarlet and Wolf, whose story from Little Red Riding Hood gets a little twist. I love how even though Meyer retells this in a totally different setting and situation, there's a lot of components of the story from the original fairy tale that fits in so well. Beautifully done.
– Old characters are still da bomb.
We get to know more about Captain Thorne (him and Cinder have the best brotp man) as well as see Cinder do her thang. Despite the addition of new characters, the old characters never become… old, if you get what I mean.
– [Storyline intensifies]
I think I gasped so much at the bookstore when (re)reading this that I scared the guy reading at the table next to mine. YOU WANT PLOT TWISTS? Ya get some. YOU WANT MYSTERY? This book delivers. YOU WANT TO KNOW THE TRUTH? Read the book. Please.
– Scarlet x Wolf = ❤

– Cinder x Kai = ❤

What I Didn't Like:
– Queen Levanna being Ms. Bitch.
But then again what's new in the series.
– Aye that's pretty much it. I had no qualms about anything else.
Recommended for:
People who have read and liked Cinder. If you didn't like Cinder I'd usually say to try the second book, but it follows the same storyline and just adds a couple of characters, so there's really no point to go forward.
Fans of science fiction, romance, and fairy tale retellings need to start this series. Now.
Rating: 4/5