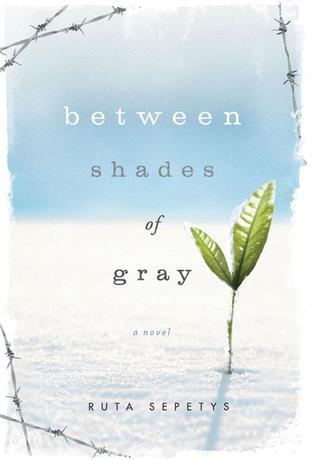 Lina is just like any other fifteen-year-old Lithuanian girl in 1941. She paints, she draws, she gets crushes on boys. Until one night when Soviet officers barge into her home, tearing her family from the comfortable life they've known. Separated from her father, forced onto a crowded and dirty train car, Lina, her mother, and her young brother slowly make their way north, crossing the Arctic Circle, to a work camp in the coldest reaches of Siberia. Here they are forced, under Stalin's orders, to dig for beets and fight for their lives under the cruelest of conditions.
Lina finds solace in her art, meticulously–and at great risk–documenting events by drawing, hoping these messages will make their way to her father's prison camp to let him know they are still alive. It is a long and harrowing journey, spanning years and covering 6,500 miles, but it is through incredible strength, love, and hope that Lina ultimately survives. Between Shades of Gray is a novel that will steal your breath and capture your heart.
"Capture your heart" more like take it, throw it around, toss it, and do that one thing where people throw it and pretend to miss it. And then give it back to me. Ruta Sepetys yet again writes a book that I fall in love with. (The first was Out of the Easy, which was actually published after this and was as good, in my opinion.) However, this one really opened my eyes to the sufferings of people not under Hitler's rule, like usual, but Stalin's.
So many books will have escaping Jews or gypsies or the like escaping the wrath of Hitler's rule. Yeah, I get it Anne Frank. This one, though, takes the perspective of a country that (I, at least) has never been explored before – Lithuania. As the author's father has lived during this time, I'd understand why she wanted to shed some light on this subject. Hitler wasn't the only one terrorizing people during this time. Stalin is doing things just as bad; things that make Hitler seem like a hero in some people's eyes. I'm not a major history buff (sorry last year's AP World History!), so this book brought a lot of insight on what Lithuanians had to go through during the 1940's. Based on comparisons with the books and memoirs I've read of people under Hitler's rule, they're actually not different at all.
Lina and her family is taken from her home and sent who-knows-where (well, the blurb says Siberia so we do know) under Stalin's direction. The worst part? Her father is separated from the rest of the family. Ruta Sepetys paints a morbid picture of the unsavory conditions in which captives such as Lina and her family had to go through during the time. Since this story is fiction, you think she'd have mercy? No. People die. Nasty stuff happen to characters. Death is a plague, waiting for its next victim. And it's only too soon that Lina will know it like a friend.
Along the way, Lina meets characters that come and go. The only constant she has is her drawings, ones that she passes to create a trail for her father to find the family when he can. She draws on handkerchiefs, loose paper, and any other substance that people can give to her. Will they make it back to her father's hands, though? Read the book and find out. Trust me, you won't regret it.
Rating: 5/5
On another note, I found some Stalin memes that are pretty accurate, although really dark in humor. I shared some, but if this is something you're sensitive about, don't bother looking at them. Ignore them. I just thought they're like humorous little pieces of an unhappy situation:


I swear, I think I learned more from internet memes than history class. Sorry American education system.