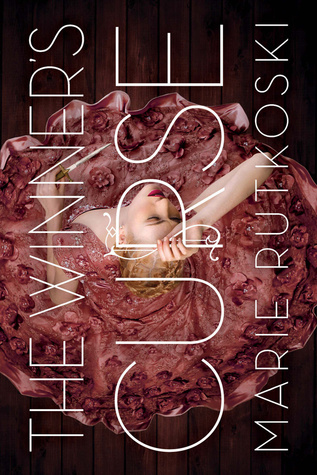 Winning what you want may cost you everything you love
As a general's daughter in a vast empire that revels in war and enslaves those it conquers, seventeen-year-old Kestrel has two choices: she can join the military or get married. But Kestrel has other intentions.
One day, she is startled to find a kindred spirit in a young slave up for auction. Arin's eyes seem to defy everything and everyone. Following her instinct, Kestrel buys him—with unexpected consequences. It's not long before she has to hide her growing love for Arin.
But he, too, has a secret, and Kestrel quickly learns that the price she paid for a fellow human is much higher than she ever could have imagined.
Set in a richly imagined new world, The Winner's Curse by Marie Rutkoski is a story of deadly games where everything is at stake, and the gamble is whether you will keep your head or lose your heart.
I am in love with the cover of the book. Although it would appeal more to the female audience, whoever designed it knew what s/he was doing. (Disappointed that the character never wore that kind of dress in the book though.)
This book was a big hit last year (and miss for some people), so I was always wary of it. I started watching booktubers (people who talk about books on Youtube) and seeing good reviews of it just kind of swayed me. (I don't know, looking at a person reviewing just gives different vibes than reading it.)
What I Liked:
– The writing was easy to follow, and the world-building was on point.
Yay to no info-dumping! Throughout the character's interactions and thoughts, we get a good sense of the world that the book takes place in and its history.
– I'm a pretty big fan of Kestrel.
Granted, in the beginning I was a little disappointed in her. We are shown that Kestrel is not a good fighter, but then as the book progresses, her true prowess is revealed: strategy. Kestrel is good at reading her opponents, and finding blackmail to use against them. It's subtle, but effective. To be honest, I would take that kind of action against someone over an ostentatious physical dominance.
– The romance was a slow burner.
I'm not too keen on Arin the character, but I liked the romance still. Or maybe I just liked the situation that made it so impossible for the couple to be together. They're on two sides of the field, but one of them doesn't know until it's too late…
– PLOT TWISTS MAN.
I was literally gasping and "oh-my-gosh"-ing in the library the whole time while reading this. It's hard to picture what would happen next in the book, especially because it comes to the point where it seems like nothing can help them. Who is "them" anyway? That's the thing – there are technically two sides in the field, but we're conflicted on who the right side is and who the wrong side is. I mean, in the beginning you can kind of see that one may be worse than the other (the Valorians who dominated the Herannis) but it's hard to hate them when the main character is one of them. So there are sides, but let's just say I'm not choosing one to be on currently.
What I Didn't Like:
– I'm conflicted about Arin.
Don't get me wrong, I think he's pretty cute in terms of a love interest. But at the same time, his attitude in the beginning wasn't quite what I expected. In the blurb it says that Arin is a slave. Tell me, if you were a slave, would you be demanding this?
"There was a silence. Then he said, 'I might feel more free to speak if I were more free to roam.'"
Bruh you're a slave you don't negotiate! But no, Kestrel takes it all into stride and gives him so many liberties. I guess this leads me into the way slavery is illustrated in the book. It's not something that's frowned upon, which I understand since these Valorians are probably used to it and have grown up to the concept. But the way it's portrayed makes me feel like it's such a small thing. When it's not! Slavery is huge, and we even fought a freakin' war over it. (Not technically but you get my gist.) I was just a little disappointed about the light representation of such a heavy concept.
– The beginning was a little slow.
Although the book picks up speed during the second half, mainly what encompasses the first hundred pages are:
"Oops I bought a slave." (Chapter 1)
"Let me ignore the slave and go about my duties." (A Couple Chapters Later)
"Finally using the slave because I want honesty."
"Dresses, gossip, and parties, yayy!" (For Quite A While)
As the story starts rolling though, everything gets tons more interesting and elaborate.
– THE ENDING.
This isn't a complaint, but more like a "I didn't like the ending because it was just. So many feelings. Why." IT WAS GOOD. I DIDN'T LIKE IT, BUT MAAAAN. It makes me glad that I started the book so close to when the second book comes out.
Recommended for:
Fantasy readers who can handle a slow pace and enjoy complex plot twists.
Rating: 3.5/5