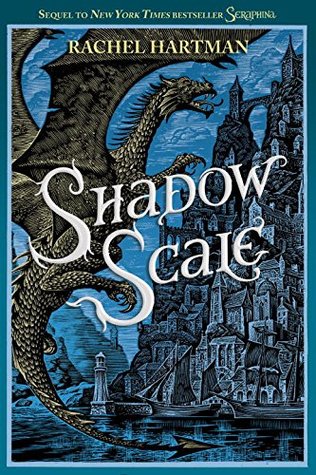 Seraphina took the literary world by storm with 8 starred reviews and numerous "Best of" lists. At last, her eagerly awaited sequel has arrived—and with it comes an epic battle between humans and dragons.
The kingdom of Goredd: a world where humans and dragons share life with an uneasy balance, and those few who are both human and dragon must hide the truth. Seraphina is one of these, part girl, part dragon, who is reluctantly drawn into the politics of her world. When war breaks out between the dragons and humans, she must travel the lands to find those like herself—for she has an inexplicable connection to all of them, and together they will be able to fight the dragons in powerful, magical ways.
As Seraphina gathers this motley crew, she is pursued by humans who want to stop her. But the most terrifying is another half dragon, who can creep into people's minds and take them over. Until now, Seraphina has kept her mind safe from intruders, but that also means she's held back her own gift. It is time to make a choice: Cling to the safety of her old life, or embrace a powerful new destiny?
I received this book via Netgalley in exchange for an honest review. 
I admit, I was a little… disappointed by the book. I remember really enjoying Seraphina, the previous book, but I guess I've changed tastes now or this sequel just fell a little flat for me. In the beginning we're given a passage to quickly catch up to the storyline. A lot of information is poured into the reader's head so if you haven't read the first book, good luck. If you don't remember what happened (like me), good luck.
What I Liked:
– All the characters had unique personalities. 
No character in the story fell flat. Each person had their own unique idiosyncrasy and traits, and I loved it! Apparently Hartman wants to write more books within this world with different characters, and I'd definitely read them! Everyone seems really interesting, from the curious quigs to the talented half-dragons.
– The writing fit perfectly for a fantasy book.
Hartman's descriptions of the setting and characters were so vivid, I could almost imagine them in my head like a movie. Here's the thing, sometimes her prose would be so beautiful and spontaneous, and other times I feel like she'd be overdoing it. (Maybe it's just because I'm used to simpler writing.)
"It was a swift-moving patch of darker darkness against the night sky, obliterating stars and birthing them again." 
Okay that part about obliterating the stars I kind of like (although it's still a little too much for me.) But a "patch of darker darkness"? I get what she's going at, but that reptition makes me feel so uncomfortable.
"On the third day, I slept at last and dreamed that I was alphabetizing an infinite library that turned out to be myself."
Sorry that I'm so clueless I don't understand what your dream meant, Seraphina. After this passage she wakes up and goes about with her life without talking about the dream. What message am I supposed to gleam from this?
Why was this written?
I still don't understand after finishing the book????
Maybe it's just my stupid teenage brain. Sorry about that, I guess.
"The city climbed vertically, terraced like the seats of an amphitheater, the eyes of the buildings fixed upon some captivating nautical comedy in the harbor below." 
I get the city climbing vertically part, why did you have to talk about the eyes of the buildings looking at the harbor? What "nautical comedy"? What's so funny about the harbor and the sea? I googled "eyes of building" and THIS IS WHAT I GOT.
Are the eyes the top of the building? Are they leaning if they're looking down? ??!??! My mind cannot compute.
So yeah, sometimes descriptions would be so lyrical like, "… the Meconi subdivided into a dozen tiny streams, braiding itself among soft little islands," and then it would take it a step farther by talking about eyes of a building looking at docks and I'm just like "what."
– The ending was good. Satisfying. Fans of the book will like it.
I, however, was not a fan of the deus ex machina used to get to the end. You know, 30 pages near the end and I knew someone/thing would have to be introduced to make this a conclusive ending. And guess what? Someone/thing came to tie up the bow and hand readers a satisfying ending. Cheers.
What I Didn't Like:
– As mentioned above, sometimes the writing (to me) was overdone. 
– I was not a big fan of the romance. 
I'll admit, it's quite subtle. A few mentions here and there, a big (ish) reveal in the end, and it has a conclusion (albeit an unsatisfying one). Realistic, but unsatisfying. We have Prince Lucian Kiggs and Seraphina mooning over each other while Lucian is engaged to his cousin, Queen Glisselda. I didn't like them hiding their feelings from her, no matter how much they both love her. Thank God it didn't dominate the storyline. In the end, all the characters know what's important and carry out their duty rather than their heart.
– I was also not a big fan of Seraphina. 
I just wish she grew more as a character. Seraphina wants to find the other half-dragons, in hopes of recruiting them as well as making them a family. Tell me, would a person wish this to their family?
"I peevishly kicked his empty bunk. I did not want him here; maybe he'd fall in the ocean."
Oh.
Even other characters mention her selfishness.
"Abdo frowned. Not everything she does is about you."
Tell her, Adbo! Every time Seraphina feels guilty about doing something or thinking something I think, "This girl learns!" But then she does something that totally refutes her earlier thoughts and I think, "Never mind!"
Recommended for:
People who like fantasy and appreciate extra-elaborate descriptions. If you read Seraphina, then you definitely need to read the sequel because I'm 103% sure you'll like it.
Random Quote I'm Putting in Because I Really Liked it:
"Look at those orange clouds. All the trials of a day may be endured if you know there's such a sky at the end of it. Some days I told my heart to wait, just wait, because the sunset would teach me again that my pain was nothing compared with the eternal, circling sky."
See how pretty that is? But then the author makes weird metaphors about building eyes and comedic harbors.
Rating: 3.5/5