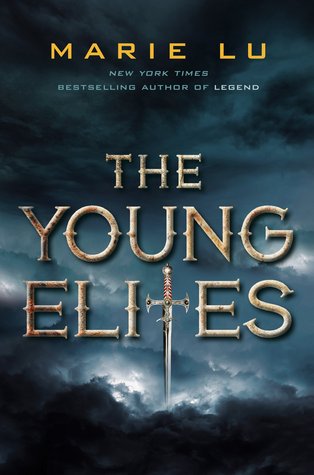 I am tired of being used, hurt, and cast aside.
Adelina Amouteru is a survivor of the blood fever. A decade ago, the deadly illness swept through her nation. Most of the infected perished, while many of the children who survived were left with strange markings. Adelina's black hair turned silver, her lashes went pale, and now she has only a jagged scar where her left eye once was. Her cruel father believes she is a malfetto, an abomination, ruining their family's good name and standing in the way of their fortune. But some of the fever's survivors are rumored to possess more than just scars—they are believed to have mysterious and powerful gifts, and though their identities remain secret, they have come to be called the Young Elites.
Teren Santoro works for the king. As Leader of the Inquisition Axis, it is his job to seek out the Young Elites, to destroy them before they destroy the nation. He believes the Young Elites to be dangerous and vengeful, but it's Teren who may possess the darkest secret of all.
Enzo Valenciano is a member of the Dagger Society. This secret sect of Young Elites seeks out others like them before the Inquisition Axis can. But when the Daggers find Adelina, they discover someone with powers like they've never seen.
Adelina wants to believe Enzo is on her side, and that Teren is the true enemy. But the lives of these three will collide in unexpected ways, as each fights a very different and personal battle. But of one thing they are all certain: Adelina has abilities that shouldn't belong in this world. A vengeful blackness in her heart. And a desire to destroy all who dare to cross her.
It is my turn to use. My turn to hurt.
Step away, all you cute little heroes and heroines that save the day at the end of the book, cuz we got ourselves a new character in town: the dark, irresistable anti-hero from The Young Elites, Adelina Amouteru! 

(Courtesy of author fanart)
Ladies and gents, Adelina (God I love this name! So classy) is not a simpering damsel in distress. It's quite impossible, with the past she's had. Adelina was abused by her father while her younger sister Violetta tried to help, but to no avail. The blood fever left her with one eye and white hair, while her father left her with years of abuse and a broken finger. Malfettos are what people like her are called – abominations that stemmed from the blood fever. They are cursed in the kingdom Kenettra, which has a Renaissance Italy atomsphere. People fear them and hate them, and the Inquisition Axis – the kingdom's military – try to eliminate the ones that have powers.
That's right, people. Some malfettos develop special powers, and they're called the Young Elites. (sound familiar?)
Turns out, Adelina happens to be one of them. They can be as quick as a spider, control the wind, make other people fall in love with them, the possibilites are endless. A secret sect, the Dagger Society, is one with Young Elites that are itching to take over the throne. 
This isn't just because the crown treats them like abominations, burn them, kill them, and fear them, but also because Enzo, the leader of the Dagger Society, is the Crown Prince, banished from the palace due to being a malfetto. So who's ruling now? A duke that became king through marriage to Enzo's older sister. A puppet on a crown. From the glimpses we see, he just drinks a lot and complains about the malfettos. No, the person to watch for in the palace is Teren, the leader of the Inquisition Axis. His hatred of the malfettos stem way, way back. Teren is killing Young Elites throughout the book, and there are some chapters where we see the story from his point of view. And oh my, this boy has a secret that is huge. Something that made his views the way they are, and something that fuels him into doing the stuff he does.
Back to the Dagger Society, there are five other members that range from friendly to cutthroat. One of the more prominent members is Raffaele, who is a beautiful male courtesan that can feel people's energies. Although Enzo is the leader of the gang, Raffaele has an influence on his decisions, therefore having an influence on the Dagger Society itself. He's the nice guy that welcomes Adelina, the one that helps her around her new surrounds, the Fortunata Court. Even so, Raffaele has some mysteries around him too that becomes unveiled later on in the story. The other members are the Star Thief, Spider, the Architect, and Wind Breaker. They all have different relationships with Adelina in the beginning, but towards the end of the book most of them end up thinking the same about her. How did they feel? God, read the book and get your heart torn apart and find out.
Adelina is given a chance with the Dagger Society to get back at the people who hurt her, and with a story like hers, who wouldn't accept? The darkness beckons to her, and lures her into an offer that she can't say no to.
"'Then let me tell you a secret.' He shifts so that his lips are close to my ear. A shiver dances down my spine. 'You are not an abomination. You are not merely a malfetto. That is why they fear you. The gods gave us powers. Adelina, because we are born to rule."
So she trains. She learns how to use her powers, but is it enough to save her from being consumed by the darkness?
"Something about Adelina… there is a frailty underneath the dark shell she has started to build around herself, a small remaining light. A light that wavers precariously from day to day."
Ahh, the romance. Ooh la, what a surprisingly light amount there was too! Which does not mean there was no small amount of angst, of course. From the beginning we can tell Enzo and Adelina have some kind of connection, but later on we're left wondering – was it really a connection, or was there something behind it? They have sweet moments, yes, but then we, as well as Adelina, are plagued with doubts which only bolster the darkness in her.
And I LOVED it. Somebody hold me.
Oh man, Adelina's character development… This girl has it rough, but that only fuels her powers. I swear, every time she got more energy from sensing fear and fury I just got excited tingles up my spine. Adelina can create illusions and yes, that may not seem like the most active power, but when you can bring out the illusion of fear, of pain, of taste, of smell? It's so dangerous and I love it. When things go wrong, Adelina doesn't wait for someone to rescue her like a good girl. No, she retaliates so hard it makes me ache for the next book.
"It is my turn to use. My turn to hurt.
My turn."
There's so many twists and turns in this book, I never knew what was coming. Combined with the beautiful imagery set up with the festive decor of the city and the plush dresses of the pleasure court, this was a read that I found myself wholly immersed in. If you enjoy fantasy books with three dimensional characters that can scare and excite you at the same time, grab this book. It will not disappoint. Marie Lu managed to impress me with Legend's story, but she sucked me in The Young Elites.
Rating: 4.5/5